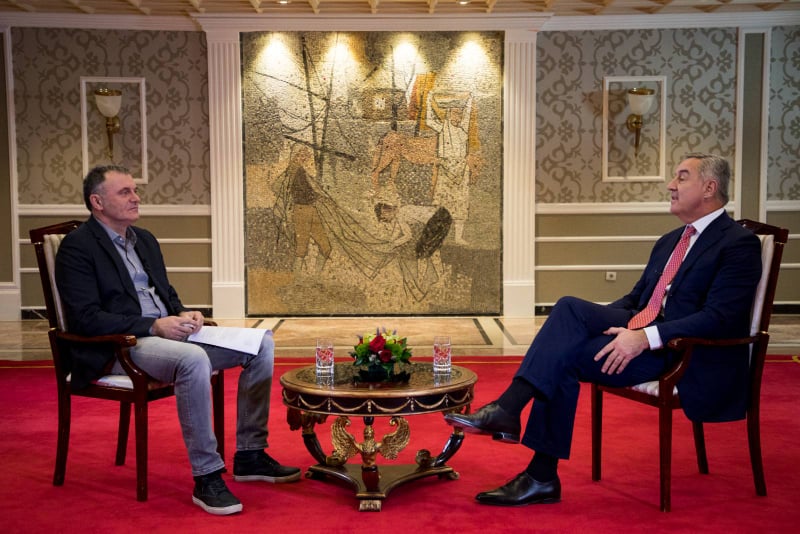 President of Montenegro, Milo Đukanović, said that he would sign a set of laws that the Parliament passed again on Wednesday, stating that it is his obligation under the Constitution.
This will, as he says, create conditions for the continuation of the process that will logically lead to the Constitutional Court, the only institution that has the power to arbitrate whether the contents of these laws are in accordance with the Constitution.
In the interview for MINA agency, Đukanović also announced that he would not sign proposals for the recall of seven ambassadors, because, as he emphasized, that would mean his participation in the defamation of these people. He has added that the decision on recall is made by the president, in accordance with Article 95 of the Constitution.
Montenegro President says he understands perfectly well that the new parliamentary majority need changes in the field of foreign policy and this is not an exception to the behaviour of the authorities in other countries.
Đukanović stated that, at the meeting with PM Zdravko Krivokapić, Parliament Speaker Aleksa Bečić and Government Vicepresident Dritan Abazović, he explained how he sees the way to successful cohabitation, and that he was at the head of the policy and movement that created the state.
"Therefore, I do not want to obstruct this country and its functionality. I will do my best to make the new parliamentary opposition, as before, a very state and nationally responsible and constructive element in the state policy",  Đukanović said, and added that cohabitation will be another new successful democratic experience of Montenegro that will make it even more mature.
As for his rejection to sign the dismissals of the Chief of the General Staff, he said that no one was appointed or removed to that position outside the session of the Defense and Security Council. They must find time to speak about this important matter, he says.
He assessed that the parliament must look for ways to reach at least a three-fifths majority that will ensure the election of people in leading positions in the judiciary if Montenegro is to continue to preserve the image of a functional state. Đukanović added that this Government that should have the support of 41 members, is mostly criticized by the ruling majority, i.e. by 27 MPs.
"It is the Democratic Front (DF) which, openly, and I would even say proudly, acts in the name of the interests of another state, the one that openly wants to annul the Montenegrin identity," Đukanović specified.
This does not go hand in hand with the agreement that the ruling majority signed the day after the elections, announcing that it would respect the strategic state-political course that should lead Montenegro to the European Union (EU), while taking on the obligations to respect NATO membership./ibna