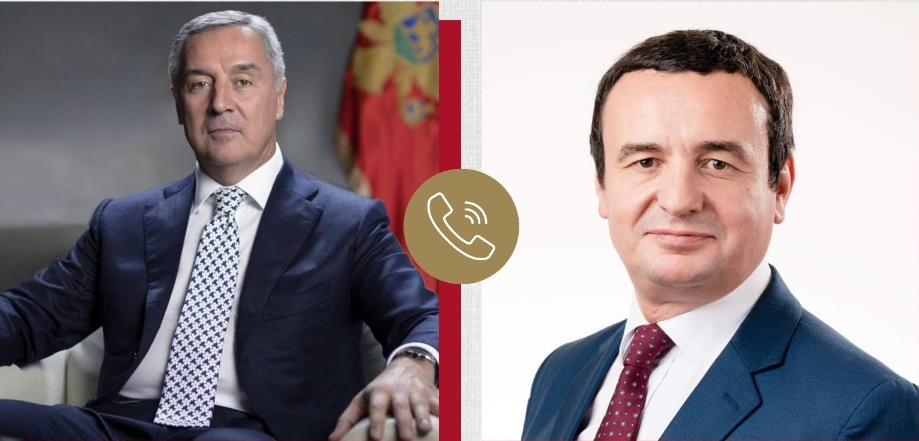 Montenegro's President, Milo Đukanović, had on Tuesday a telephone conversation with Acting Prime Minister of the Republic of Kosovo, Albin Kurti.
According to a statement of the Presidential Office, Đukanović thanked Prime Minister Kurti for the initiative for talks in the context of friendly good neighbourly relations between the two countries and the continuation of intensive political contacts and informed him about the successful completion of the first phase of Montenegro's fight against the coronavirus. The implementation of measures will soon lead to an even more favourable epidemiological situation. The top priority of the state policy now is the economic recovery and the start of the economy, Đukanović said, and he emphasized the readiness for close cooperation with Kosovo in reducing the expected economic losses in the current year as much as possible.
Prime Minister Kurti thanked for the opportunity to talk with President Đukanović, pointing out the importance of communication in this significant moment for both countries, especially regarding the restart of the economy after the crisis caused by the pandemic.
It was mutually assessed that at this moment, in addition to human health and the preservation of the economy, it is important to preserve the democratic course as the basis for the development of any society with European goals, especially building of institutions, rule of law, human rights and media freedom.
"President Đukanović pointed out that Montenegro is carefully monitoring everything that is happening in Kosovo and the region as a whole, and in that sense he expressed hope that conditions will soon be created for the continuation and intensification of the dialogue between Belgrade and Priština. We wish good to our peoples and states, but that good cannot come if we do not wish good to our neighbours as well, he stressed. In that line, he welcomed the decision of the Government of Kosovo to abolish taxes as an encouraging step towards restoring trust and expressed hope for finding a good and long-term sustainable solution that will contribute to regional stability and prosperity towards a common goal – EU integration", the statement reads.
Prime Minister Kurti reaffirmed his commitment to the principled and well-prepared continuation of the dialogue between Belgrade and Priština, emphasizing that there are problems, but with work and future cooperation further steps forward can be made.
It was jointly assessed that a dialogue based on the values of a multiethnic democracy is crucial and that its success would be a turning point for restoring the trust and stability in the region./ibna