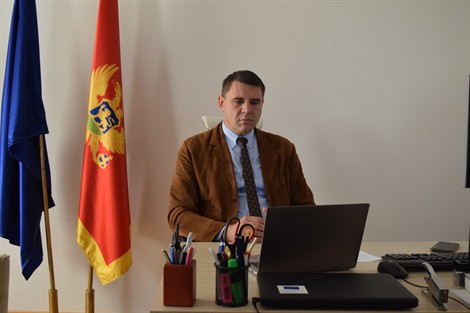 Regions in Europe share not only challenges, but also potentials and chances for progress, which is why joint work is needed in achieving the goals of the EU Strategy for the Danube Region (EUSDR), said Montenegro's Chief Negotiator Aleksandar Drljević.
Today, he represented Montenegro at the meeting of ministers within the IX Forum of the EUSDR, which ended the successful presidency of Croatia over this strategy. Minister of Foreign and European Affairs of the Republic of Croatia, Gordan Grlić Radman, opened the meeting, which was organized today via a video link.
The EUSDR is a macro-regional strategy aimed at creating synergies and coordination between existing policies and initiatives in the Danube region. 14 Danube River Basin countries are participating in the implementation of this strategy, of which nine are EU members (Austria, Czech Republic, Hungary, Bulgaria, Croatia, Slovenia, Romania, Slovakia and Germany), while the five others are non-EU countries (Montenegro, Bosnia and Herzegovina, Moldova, Serbia and Ukraine).
"The meeting adopted a Ministerial Declaration in which the emphasis was placed on the unfavourable events that marked Croatia's presidency – specifically the COVID-19 crisis, as well as a strong earthquake that had a devastating impact on Zagreb as Croatia's trade, economic, cultural and development centre. Also, the Declaration highlighted the programme documents that were finalized, adopted and published in the past period, as well as the European Green Agreement, which represents a roadmap for the sustainability of the EU economy by turning climate and environmental challenges into opportunities in all policy areas and transition making it righteous and inclusive for all. This year represents a decade of the strategy's existence, so the Declaration refers to the activities that have been implemented in the past period, but also to the plans for the next 10 years", said Montenegro's government in statement.
Drljević emphasized the leading role that the EU has in the process of implementing the strategy and coordination of its priorities, as well as the importance of including macro-regional priorities in the program documents for the next financial perspective. "Regions in the Europe share not only common challenges, but also common potentials and chances for progress. Therefore, while achieving the main goals of the EUSDR, we are contributing to the entire Danube region, which is historically, socially, politically and economically one of the most important regions of the EU and the whole of Europe. Given that we all share and promote European values, there is great potential to be more united and persistent than ever before", the Chief Negotiator pointed out.
He congratulated Croatia on a successful one-year presidency of the Strategy, and colleagues from Slovakia on taking over the presidency, and wished them much success in implementing significant activities in the context of the EU Strategy for the Danube Region.
"Montenegro will be a reliable partner for everyone in the future activities of the EUSDR, with the goal of its further development, with continuous commitment that is crucial for the successful implementation of the strategy", Drljević concluded./ibna