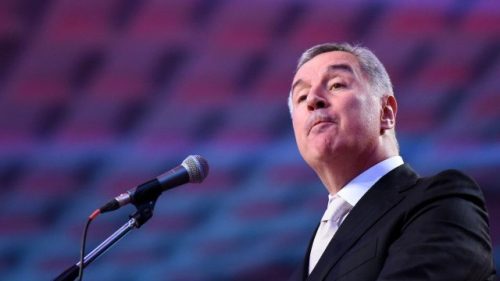 The strength of the Democratic Party of Socialists is very respectable, and that strength makes it impossible for nationalism and chauvinism, which are making a return in the Western Balkans, to realize their intention in Montenegro. Our task remains to continue working on expanding our coalition capacity, said Montenegro President Milo Đukanović in an interview for Nova BiH.
"I think it is good that the time has come for Montenegro to change the platform for future action. Up until today, we mainly acted on a platform that was sovereign, pro-Montenegrin and which was a demarcation line compared to another platform that was anti-Montenegrin.
Now is the time to define the pro-European platform more clearly and I am sure that some parties will join the DPS, including those that make up the ruling coalition today, which could accept and have basically already accepted Montenegro as a civil state, a multiethnic society and a future member of the EU," the President pointed out.
The Democratic Party of Socialists, the party leader and Montenegro President stressed, achieved an exceptional result in the elections in Nikšić. Đukanović recalled that these elections followed several months after the parliamentary elections, which were held in Montenegro on August 30 and after which the Democratic Party of Socialists was pushed aside to the main opposition after 30 years of continuous rule.
"Most political analysts in Montenegro and the wider region assumed this would be the beginning of the end for DPS, a fate shared by every party that has been in power for a long, continuous time.
This did not happen in this case; the Democratic Party of Socialists improved its numbers compared to the parliamentary elections result and thus announced its stable presence on the Montenegrin political scene and its leading role in representing the European future of Montenegro, and I believe it will soon return to state power in Montenegro," Đukanović said.
Đukanović believes there is no reason for dissatisfaction from the party's point of view.
"When we look at it from a state angle, it should be noted that it is logical in a way that only a few months after the victory of today's ruling coalition, which they have been waiting for 30 years, the winners are still rejoicing the euphoria of that victory. A small number of voters was able to rationally discern the government's quality in the past few months, but I think that will follow in the coming months. Another thing I want to draw attention to is that the structure of support received by the state ruling coalition has changed.
One extreme nationalism suffered a serious defeat. That nationalism, embodied by the Democratic Front in Montenegro, had the brutal support of the Serbian government and every pro-regime -or more or less all- media from Belgrade in these elections, and despite that it lost exactly one third of its support in just six months," Đukanović emphasizes.
He claims Montenegro has that peculiar internal division that, unfortunately, is also reflected in the issue of state status.
"Both in the referendum on independence and in all previous elections until 30 August 2020, sovereigntists and pro-European majority had a very stable advantage over the representatives of what was basically another anti-European policy in Montenegro."
I think a combination of various circumstances has led to a slight change in the balance of power on the political scene in the parliamentary elections. I am convinced that this will not endanger the independence of Montenegro's sovereignty, and it will thus in no way endanger the further path of our country's European development," he said.
He claimed he was not surprised by the rhetoric of political competitors either.
"For 30 years, they saw in me a problem for their failures and today they see, in me and in the party I lead, the last barrier to realizing their plan: for Montenegro to be the prey of a greater Serbian nation once again. That is why they are somehow not talking about anything else but who will succeed Milo Đukanović. They were wrong. The elections in Nikšić showed that. I think that 99.9% of European democratic parties would be overjoyed and would not believe that they won 40 or 41% in some elections," said Đukanović. /ibna