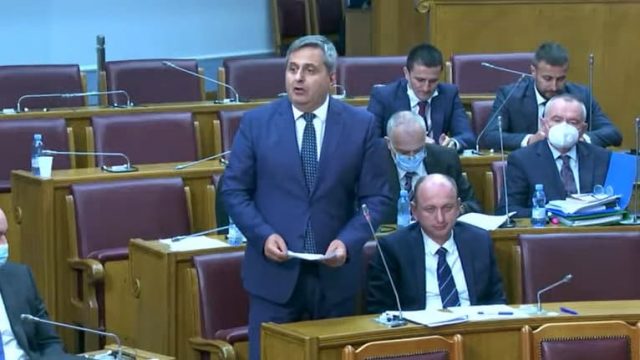 President of Montenegro Milo Đukanović has announced today that he will not sign the amendments to the Law on the State Prosecutor's Office, which were adopted by Parliament last week.
"Today, I will return the prosecutorial laws to Parliament for re-decision", President Đukanović has stated at the annual press conference in Cetinje.
He has stressed that these laws endanger the constitutional and legal system of Montenegro.
"The Constitution provides for a divided system of Government, but it does not provide for control over the judiciary. Fundamental democratic principles are being destroyed, partnership with the EU is being destroyed", he has pointed out.
He has recalled that, on two occasions, the Venice Commission (VC) clearly stated its remarks on the intention offered by the two prosecutorial laws.
"The last VC opinion says what is unacceptable – that the prosecutor is elected outside the prosecutor's organization. All this is brutally ignored by the ruling coalition because it does not believe that there is anyone who is ready to take over the party whip which it is trying to push into their hands", President Đukanović has stressed.
He believes that the new majority wants to find someone who will continue with brutal revanchism, and that is not good for Montenegro.
But, the statement that caused more reactions was about candidates for ambassadors of Montenegro. Đukanović said that it is logical that "those who were against the revival of the Montenegro independence and against the creation of the state in last 15 years have no moral rights to seek the consent of the state to be her representatives".
"The process of consultations for the election of new ambassadors has begun and I remind you that I had two discussions on the topic with representatives of Government, including FM Đorđe Radulović," said Đukanović.
After this statement, the Head of the Democratic Front caucus in the Montenegro Parliament, Slaven Radunović said that the party will start the process of Đukanović impeachment.
"Đukanović said that those who were against the independence of Montenegro do not have the right to be its representatives. The Constitution of Montenegro states that rights and freedoms are exercised on the basis of the Constitution and that everyone is equal before the law. The citizens of this country who participated in the referendum, due to their statement, cannot perform a public function. It is the most explicit form of human rights violations and the culmination of insolence. I expect the most serious reactions from all institutions in Montenegro that deal with these matters. We will try to animate 25 deputies and ask for a recall. Đukanović has shown that he is not the president of all citizens", stated Radunović.