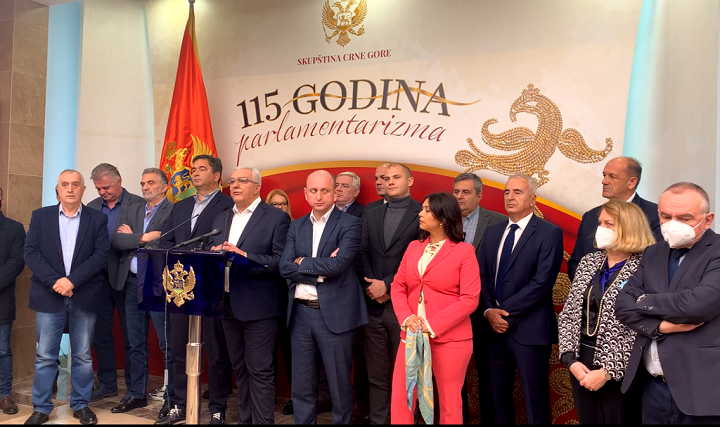 One of the leaders of the Democratic Front (DF) of Montenegro, Andrija Mandić, said that due to Deputy Prime Minister Dritan Abazović and GP URA and Prime Minister Zdravko Krivokapić, the phase of government reconstruction was completed for DF. He added that the political alliance had launched an initiative to elect a new government.
At the beginning of the press conference on Monday, Mandić said that a new phase of political life in Montenegro is now beginning, and added that they have made great efforts to resolve the political crisis in the country. As he pointed out, in that alliance, they were ready to support the reconstruction of the Government of Zdravko Krivokapić and actively participate in the reconstruction.
"There was enough space, time, strength. Unfortunately, the time has come to state that due to Dritan Abazović and the Civic Movement URA, as well as Prime Minister Krivokapić, as far as the DF is concerned, the phases related to the government reconstruction are ending and we are no longer interlocutors for this process. As of today, we are launching a new initiative, the election of a new government, and we will propose to the partners from the parliamentary majority, who elected the current government with 41 votes, that we elect a new executive, prime minister, ministers," Mandić said.
He added that he would evaluate the work of those who have participated in the work of the Government so far, and added that the DF has long been dissatisfied with the results of the Government.
"If this process fails, we know what the only solution is and in whose hands is the solution to every political crisis, including the one that exists in Montenegro," Mandić said.
Mandić added that the DF will participate in the voting of laws in the next period, which, as he said, are in the interest of the citizens of Montenegro.
"Citizens will not suffer because of this decision, but we cannot allow citizens to suffer that we have a government that does not have the support of Parliament, which did not deliver the products we asked for. That is why the most important thing is to open a new political process," Mandić said and called on the partners from the parliamentary majority to comment on the DF's proposal.
He says that he will consider all possibilities.
"We also extended our hand around the reconstruction and today we are extending it to the people from the majority. We think that this is the fairest thing we can do towards those who voted for the parliamentary majority," Mandić said.