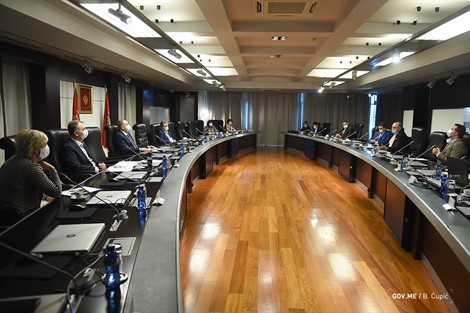 The National Coordination Body for Infectious Diseases (NCB) of Montenegro, at a session held on Tuesday afternoon, chaired by President Milutin Simović, decided to declare an end to the coronavirus pandemic introduced on March 26 at the suggestion of the Institute of Public Health (IPH) in Montenegro, throughout the state territory.
It was stated that this is the result of several months of efforts by everyone in the system and the citizens whom NCB thanks for their trust and discipline.
The National Coordination Body expressed satisfaction with the quality and efficient engagement of the entire health system and all operational staffs, which is the best denial of unsubstantiated and untrue claims made from the highest addresses in the region, among other things, and that only rapid coronavirus tests are allegedly performed in Montenegro, and that the country does not have adequate laboratories and testing resources.
"Our citizens know and see what we do and how we do it, that is why they support in a huge percentage, above 90 percent, everything the NCB and the Government have introduces, but for the international public we announce that Montenegro has the most modern laboratories, top experts and excellent facilities. If that was not the case, we would not have successfully fought off the pandemic and become the first country in Europe to reach a corona-free status", it is mentioned in the statement.
NCB, in accordance with the policy of full transparency of work that it practiced, decided to present to the citizens by the end of the week all relevant information on medical devices and equipment with which Montenegro emerged from the pandemic.
The Protector of Human Rights and Freedoms of Montenegro, Siniša Bjeković, who was invited to attended the session, congratulated the National Coordination Body on its successful work so far, which resulted in a low infection and mortality rate and a high level of protection of life and health of citizens and foreigners residing in Montenegro. The Ombudsman was informed by the NCB about all its activities related to the coronavirus pandemic, which include communication with citizens, quarantine visits and analysis of the adopted measures.
Bjeković stated that in that sense there are no objections to the work of NCB and pointed out the need for special sensitivity in the continuation of its work, in order to avoid an unequal treatment of persons./ibna