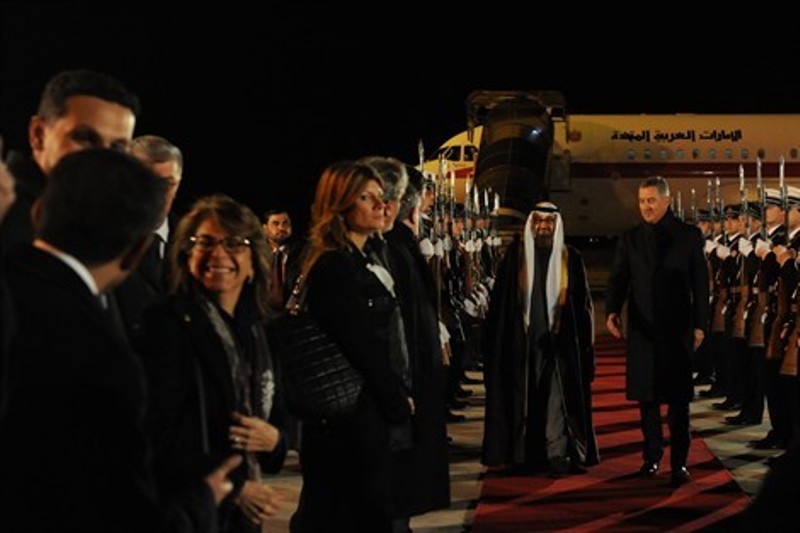 Podgorica, Montenegro December 13, 2013
Montenegro's Prime Minister Milo Dukanovic hosted Wednesday afternoon Crown Prince of Abu Dhabi Sheikh Mohammed bin Zayed Al Nahyan.
Prince Mohammed noted the UAE perceives Montenegro as a friendly country with good prospects for the future, which can count on the United Arab Emirates' full support.
Prime Minister Dukanovic said that "Prince Muhammad's visit honours Montenegro and testifies attention the United Arab Emirates and the royal family Al Nahyan pays to Montenegro."
There are several projects being implemented in Montenegro in cooperation with the Investment and Development Fund of Abu Dhabi, Prime Minister Dukanovic pointed out, announcing the signing of an agreement on developing a tourist resort on the Montenegrin coast. It is only the beginning of the cooperation between the two countries, he stressed.
"There are significant cooperation projects in the fields of tourism, transport and food production we are planning to implement," he concluded.
The two officials also exchanged views on regional and global developments, and Montenegro's progress in integration processes.
Crown Prince of Abu Dhabi meets President of Montenegro
General Sheikh Mohamed bin Zayed Al Nahyan, Crown Prince of Abu Dhabi and Deputy Supreme Commander of the UAE Armed Forces, has discussed with President Filip Vujanovic of Montenegro, cooperation ties and friendship.
Sheikh Mohamed stressed the importance of strengthening relations in different fields, referring to the efforts by the Montenegrin President to achieve this in the best interest of the two peoples.
They discussed ways of enhancing the bilateral cooperation in different sectors, especially in the areas of economy, trade and investment.
President Vujanovic commended the UAE for dispatching aid to Montenegro to tackle repercussions of natural catastrophes through assisting the refugees, and funding water projects and agricultural development. "There were great opportunities for investments in both countries", he said.