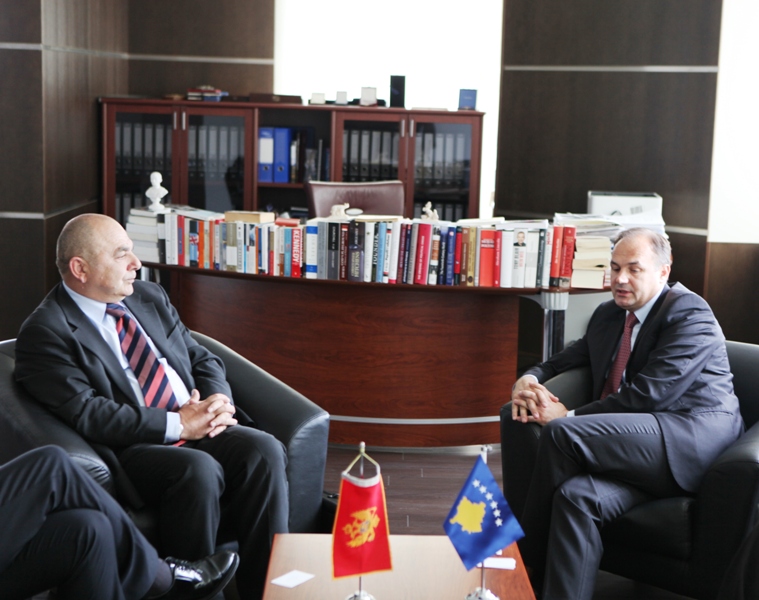 Podgorica, June 4, 2013
The government of Montenegro has decided to open a diplomatic center in Kosovo and to send to Pristina its charge d'affaires.
Radovan Milanic is the newly appointed diplomat. Accompanied by Vladimir Radulovic, secretary of State for political issues at the Ministry of Foreign Affairs and Integration of Montenegro, he was received on Tuesday by the Foreign Minister of Kosovo, Enver Hoxhaj (photo).
During this meeting, minister Hoxhaj has praised the decision of Montenegro to send a charge d'affaires in the Republic of Kosovo and said that the Republic of Kosovo will soon appoint its diplomatic representative in Montenegro. Hoxhaj has stressed the bilateral cooperation that exists between the two countries, especially in terms of economic exchanges.
According to Hoxhaj, such step is very important for the relations between the two neighboring countries.
'We consider the relations between the two neighboring countries as very important for the functioning of the diplomatic missions in the respective capitals", said minister Hoxhaj.
On his part, the charge d'affaires of Montenegro in Kosovo, Radovan Miljanic said that during his mission in Kosovo, he will work in order to strengthen the relations between the two countries. /ibna/