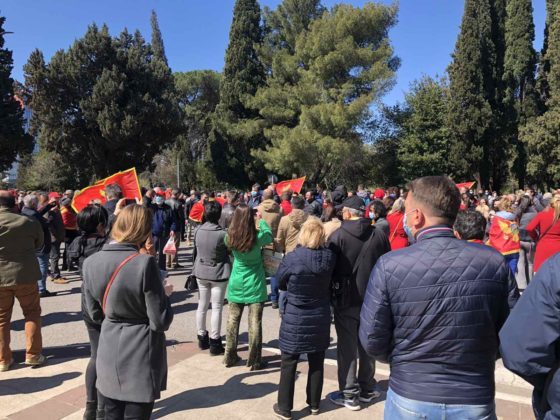 A large group of several hundred citizens and members of the Patriotic Komitas Alliance of Montenegro (PKS) gathered in front of the Montenegrin Government building on Thursday to protest the announced changes to the Law on Citizenship. As previously announced by the PKS, these changes would grant Montenegrin citizenship to Russian and Serbian citizens to the detriment of Montenegrin citizens living abroad. "This would make Montenegrins a minority in their country," the PKS explained.
Although the Government announced that the discussion on the Law amendments was removed from the agenda, the citizens did not withdraw. Citizens carrying Montenegrin flags, singing patriotic songs, chanting "It's not my government" and "Treason", said they would not allow the planned election engineering. A group of citizens was on its way from Nikšić to Podgorica to join the protest, when the police blocked their way.
The president of the Patriotic Komitas Alliance of Montenegro, Tanja Knežević-Perišić, told the RTCG Portal that, after they were stopped, the gathered citizens blocked the Podgorica-Nikšić highway.
"We wanted to be in front of the Government at 11 o'clock, but the police stopped us in Bogetići. We stopped, showed the confirmations on the existing form. They asked for employment contracts; as a party we do not have that. Not even larger parties have that," Knežević-Perišić said.
As she stated, the PKS will file a criminal complaint against "the minister who ordered this and against the Nikšić police, because they must not restrict our movement."
An incident broke out during the blockade, when a group of citizens stopped the official car of the Government Protocol which tried to pass through the protesters. Some of them climbed on the vehicle and fell off when it started running. The incident caused great dissatisfaction among the crowd.
It turned out that the daughter of Montenegrin Prime Minister Zdravko Krivokapić was riding the vehicle.
"Today, the official vehicle carrying my daughter, otherwise a protected person, was attacked. As a father, I will not forget her tears and fear. As a Prime Minister, I will not allow your savagery and lawlessness! There will be newly found law and order in the country. You will see it soon," he posted on Twitter. /ibna