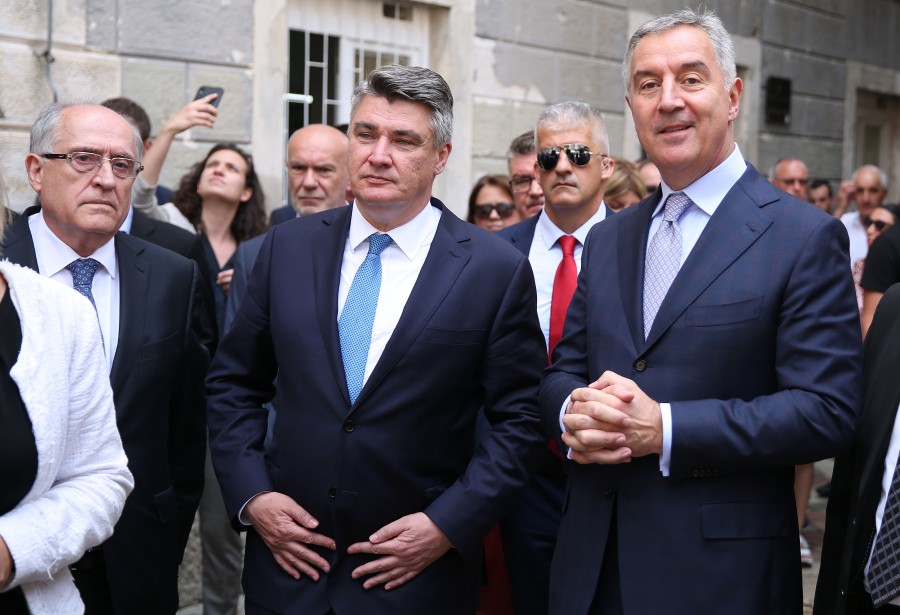 The President of Montenegro, Milo Đukanović, and the President of Croatia, Zoran Milanović, attended today in Kotor the traditional round of the Boka Navy.
Milanović has been in Montenegro since yesterday, this being his first official presidential visit after interstate activities were put on hold for several months due to the pandemic.
The Municipality of Kotor announced that the President of the Municipality, Željko Aprcović, welcomed Milanović and Đukanović.
The two presidents also visited the headquarters of the Croatian Civil Society of Montenegro. As stated in the announcement of Đukanović's cabinet, they visited the Cathedral of St. Tripun in Kotor, as well as the Diocese of Kotor.
In addition to Đukanović, the Croatian President also met with Parliament Speaker Ivan Brajović and Prime Minister Duško Marković.
During their meeting, Brajović emphasised that this visit represented yet another confirmation of good bilateral relations between the two countries, as well as a clear support to Montenegro on its integration path. He thanked the Republic of Croatia on its help in fulfilling the country's foreign policy goals, where the cooperation of the two parliaments played a great role.
"Croatia's support has been even more significant, bearing in mind that it comes from a friendly neighbouring country, which managed to also dedicate its presidency of the Council of the EU, amidst challenging times, to the policy for the Western Balkans states' integration to the Union", Mr. Brajović pointed out.
The Croatian President stressed that his visit to Montenegro so quickly after assuming office was no coincidence:
"You are a country that has made good and timely decisions. By joining NATO and negotiating with the EU, you clearly and irrevocably chose the nature of Western democracies", added Mr. Milanović. He emphasised that the EU was the best environment for the two countries, a society where Croatia wished to see Montenegro joining as soon as possible, as the first member-state in the next foreseeable period.
During their meeting, they discussed health and economic challenges, positive that both Montenegro and the Republic of Croatia would overcome them successfully. /ibna