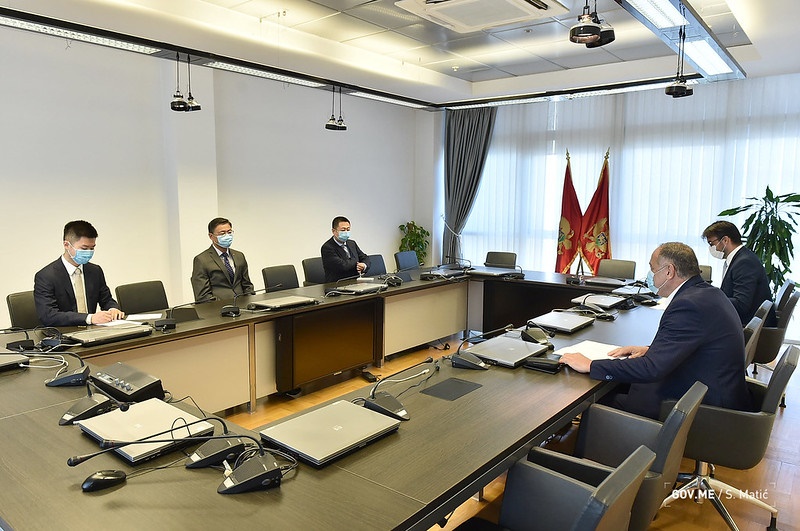 Montenegro Deputy Prime Minister and President of the National Coordination Body for Communicable Diseases Milutin Simović met today with Ambassador of the People's Republic of China to Montenegro Liu Jin, as the Montenegring Government announced in a press release.
DPM Simović thanked Ambassador Liu Jin for maintaining regular communication, which promotes good and friendly relations between Montenegro and the People's Republic of China.
Simović stated that, in the period since the previous meeting, a lot has changed at the global level both in Montenegro and in the People's Republic of China, as a result of the COVID 19 pandemic.
"Montenegro is a small country but, with great strength, will and determination, remains committed to the key-target of ensuring the health of citizens and combating the pandemic, on the basis of solidarity, understanding and cooperation", Simović stated.
The Deputy Prime Minister thanked the people of the People's Republic of China for the continuous support they provided to Montenegro during the pandemic. "Every ounce of support by a friend is important, and we never measure it in tons, quantities or amounts, but in actions and in an honest relationship".
The Embassy of the People's Republic of China, through the Chinese Red Cross, provided 40,000 medical and 15,000 N95 masks. DPM Simović also expressed gratitude for this new act of solidarity and support, taking the opportunity to give thanks for the recent delivery of 10 tons of disinfectants for public areas sent as a donation by the Chinese company "Shandong Dongfang Hioyuan Chemical Import and Export", which was supported by the CRBC and "ZheJiang VRN Wine Company" Groups.
Ambassador Liu Jin said he was "confident that, under the leadership of the Government of Montenegro and the National Coordination Body, Montenegro will successfully cope with the current wave of the spread of the novel coronavirus".
"Both in China and Montenegro, it is now important to focus on the economic recovery, with strict control over the spread of the virus. Fighting COVID-19 constitutes a global challenge. Since the beginning of the pandemic, the governments of China and Montenegro have proved that their citizens and their health come first", said Ambassador Liu Jin.
Both sides expressed hope that the two friendly countries and the whole world would soon find a sustainable response and prevent the further spread of the virus, thus providing the conditions for full attention to be paid to economic recovery, development and joint projects. /ibna