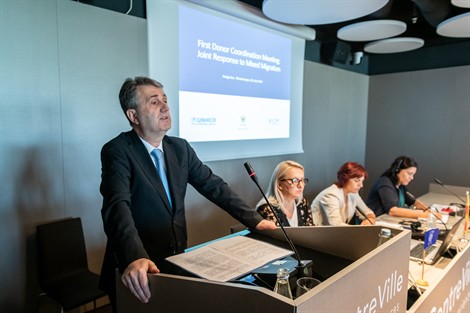 In the process of joining the European Union, cooperation with international partners provides a significant contribution to more efficient migration management and border protection. Such meetings should serve as a platform for consolidating partnerships and identifying priorities for further cooperation, said Interior Minister of Montenegro Mevludin Nuhodžić, opening the First Coordination Meeting of the donor "Joint Response to Mixed Migration" organized by the Ministry of Internal Affairs, Migration (IOM) and the Office of the United Nations High Commissioner for Refugees (UNHCR).
The minister announced that the Government of Montenegro had been responsible and committed to the implementation of the strategic and normative framework, as well as the institutional structure that would adequately respond to the challenges of migration.
"We paid special attention to joint activities with partner services from the Region and EU Member States. In this regard, we intensified activities to strengthen the coordination and synergy of police agencies, risk analysis, intelligence data gathering and exchange, in order to improve the fight against illegal migration, smuggling and trafficking of human beings. We also work on strengthening cooperation with European agencies. In this respect, in February of this year, we initialed the Agreement between Montenegro and the European Border and Coast Guard (FRONTEX), whose goal is joint fight against illegal migration and, therefore, even better protection of our borders against all forms of crime", the minister said.
In particular, Nuhodžić emphasized that, without the strong support of international partners, it would not be possible to achieve good results in the field of migration, as stated in the recently published European Commission Report. Noting the importance of international cooperation for more efficient migration management, he stressed that significant funds were provided on the basis of donations for the implementation of projects in this area.
Fiona McCluney, UN System Coordinator in Montenegro, said that the Secretary General of the United Nations rightly marked the migration as one of the key challenges of our time. "It is a challenge that can generate the worst forms of hate speech and human tragedy, but it can also generate hope and optimism. Migrants and refugees can make a great contribution to local communities, not just through the knowledge and skills of newcomers, but also through the contribution of openness to new perspectives between societies", McCluney said.
She emphasized that migration is an indispensable part of the Agenda for Sustainable Development by 2030, with the remark that all the member nations of the United Nations have committed themselves to meeting 17 Sustainable Development Goals that anticipate the protection of the rights of refugees and asylum seekers so that no one would be omitted./ibna