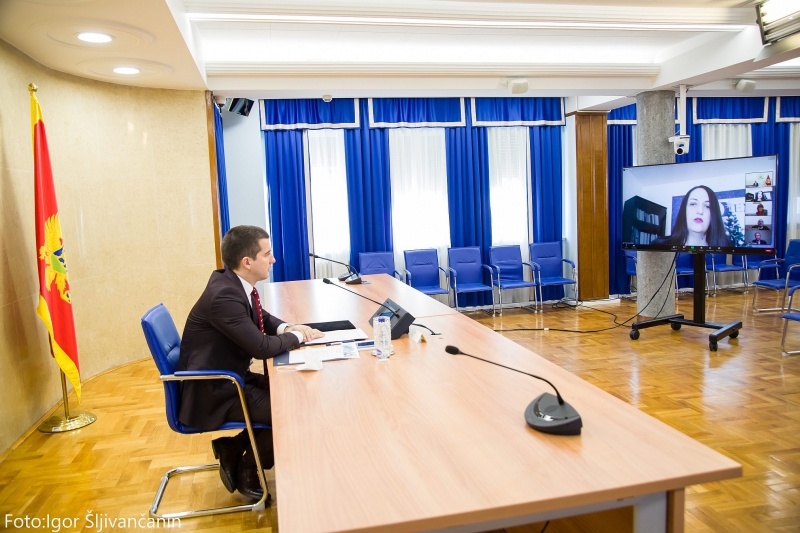 Today, President of the Parliament of Montenegro Aleksa Bečić addressed the participants of the conference "The State of Democracy in Montenegro", organized by the Centre for Democracy and Human Rights CEDEM, in a virtual way.
In his introductory address, Bečić recalled that today's conference was part of a series of events in which the President and members of the Parliament of Montenegro actively participate in important socio-political topics.
"I appreciate the state of democracy in our country, which is always an inspiring topic for debate. Bearing in mind that democracy in Montenegrin society is still in its infancy, it is not necessary to emphasize the importance of such open forums, which I am convinced will shed light on the final challenges our society faces in the process of meeting the needs of citizens for the rule of law, equality and justice," Bečić stressed.
He said that the Parliament of Montenegro would make a significant contribution to the development of democratic processes in Montenegro.
"The best way to do that is to continue on the path the state has taken, by strengthening its control and supervisory functions, that is, by respecting the constitutional roles it lost in previous, undemocratic circumstances. In that way, citizens' trust in the highest legislative and representative house will return, because without trust there can be no talk about the legitimacy of the institution, and without legitimacy it is almost impossible to talk about democracy," said the President of the Assembly.
He added that the fact remains that several initiatives and proposals have already been signed together by the presidents of all parliamentary clubs – both the government and the opposition.
"This message reads: we are ready to put aside our various party interests to achieve a higher goal; the common interest of all citizens and communities of Montenegro," Bečić said.
He also referred to the activities of the institution he represents in the coming year and by which the success of that work will be measured.
"First of all, I am talking about a comprehensive electoral reform, which is indispensable for restoring the faith of all political actors and citizens in the electoral process, and which is complementary to accelerating our European path in the community of developed European countries. No less important is success in implementing other activities, namely the reform of the judiciary, which, when consistently implemented, will undoubtedly and decisively affect our progress in Chapters 23 and 24. In other words, only by realizing these activities will we lay a solid foundation for future democratic processes in our country," concluded Bečić. /ibna