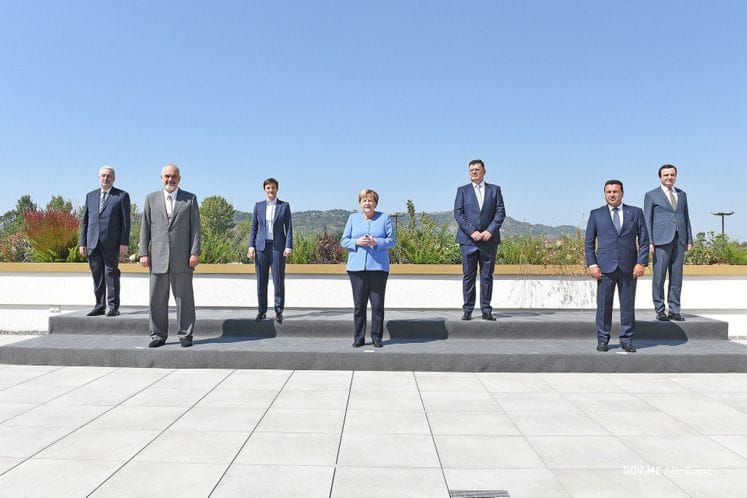 Montenegro is the most advanced country – a candidate for membership in the European Union, said German Chancellor Angela Merkel, at a working lunch with Prime Minister Zdravko Krivokapić and the leaders of the Western Balkans in Tirana, Albania. The statement of the Government of Montenegro says that the main topic of the meeting was regional cooperation and mechanisms for its improvement.
"On that occasion, Chancellor Merkel especially pointed out that Montenegro is the most advanced country – a candidate for membership in the European Union, emphasizing the importance of the idea of ​​a common regional economic market, which, according to her, can benefit all Western Balkan countries," the government said.
As it is stated, Prime Minister Krivokapić thanked Chancellor Merkel for the recognition she gave to Montenegro, and for recognizing the reform and European course of the new Government.
"At the working lunch, the need to continue working within the Berlin Process in the coming years, as one of the most important diplomatic initiatives since 2014, whose goal is the enlargement of the European Union, was additionally emphasized," the statement reads.
In that sense, the aspiration was expressed that all Western Balkan countries work diligently on the processes of internal reforms so that the process of EU integration would run faster and more intensively.
The President of the Management Board of the Montenegrin Monitoring Centre (CeMI), Zlatko Vujović, who is also the Secretary-General of the European Network of Election Monitoring Organizations (ENEMO), also met with the German Chancellor in Belgrade yesterday.
"It was a great opportunity to present the political situation in Montenegro and the main challenges that Montenegrin society is facing. It was a very open and dynamic meeting, "Vujović pointed out.
Vujović was the only representative of the civil sector from Montenegro, who yesterday, with five other leaders of the civil sector of the Western Balkan countries, attended the meeting with Merkel.
"Civil society leaders from the Western Balkans greatly appreciate Ms Merkel's approach to organizing this event before the meeting with the presidents and prime ministers of our countries.
"During the meeting, the key problems that the civil sector in the Western Balkans is facing were presented, and it is very important to discuss this with foreign partners and officials at the highest level," Vujović said.