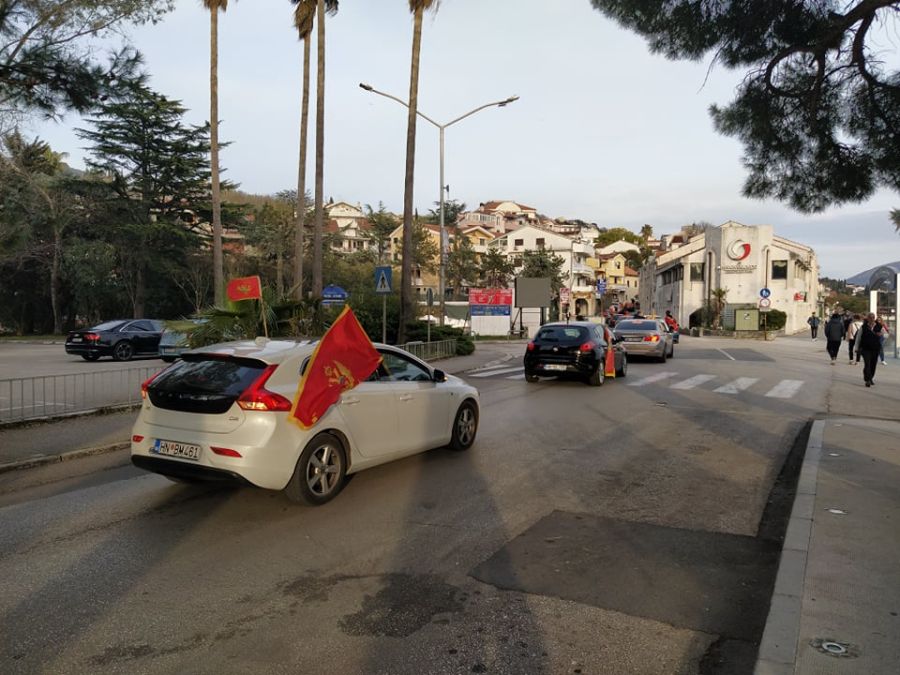 Across several cities of Montenegro, citizens dissatisfied with the work of the Government of Montenegro organized a protest in car convoys on Sunday afternoon.
"We, who do not belong to political parties and interest groups around them; we, whose expectations have been betrayed by both sides; we, the sons and daughters of Montenegro who can't live off our reserves for life, invite everyone like us to join us in protest," the organizers stated in their public call to citizens, which was published on social networks. The Participants were carrying Montenegrin flags, while patriotic songs were being played from the cars.
The protest has continued for several days, erupting after the Government announced a debate on reforms to the Law on Citizenship. Citizens accusing the Government of being pro-Serbian believe the Law amendments offer greater chances for Serbian citizens to acquire Montenegrin citizenship, while shrinking the chances for citizens of the diaspora. Thus, as they say, the number of Montenegrin citizens will be reduced and they will become a minority in their own country.
The Montenegrin nationalists of "Komitas" described the protests as the "Montenegrin Spring". At the end of the protest drive in Podgorica, they stopped in front of the Assembly building and shouted insulting slogans against Serbs.
Addressing the citizens of Montenegro, Prime Minister Zdravko Krivokapić said he had nothing against demonstrations and protests, as long as they were peaceful and did not incite violence. He added that people close to President Milo Đukanović, whose DPS party was overthrown in last year's elections, was orchestrating the protests. Krivokapić said that name of the anti-government demonstrations was reminiscent of the "Arab Spring", but that those "springs have passed" and that Montenegro should prepare for the summer and the tourist season.
The DPS announced that Prime Minister Zdravko Krivokapić, with each of his actions, is causing new divisions in the society, seriously destabilizing it.
They say that through provocations, threats and buck-passing techniques, Krivokapić is fuelling the tensions that arose as a result of a series of bad decisions.
"This culminated in the attempt of ethnic and electoral engineering, which destroys the civic body of Montenegro by creating conditions for the supremacy of one nation in relation to all others living in our country. In addition, they provoked citizens with actions such as trampling on demonstrators, followed by threats instead of apologies, mass arrests of demonstrators with the aim of intimidating them, and similar actions that for days have been trying to quell the people's revolt against attempts to change the demographic structure of Montenegro under the guise of administrative procedures," states the DPS.
As announced, protest convoys will be organized every Sunday afternoon. /ibna