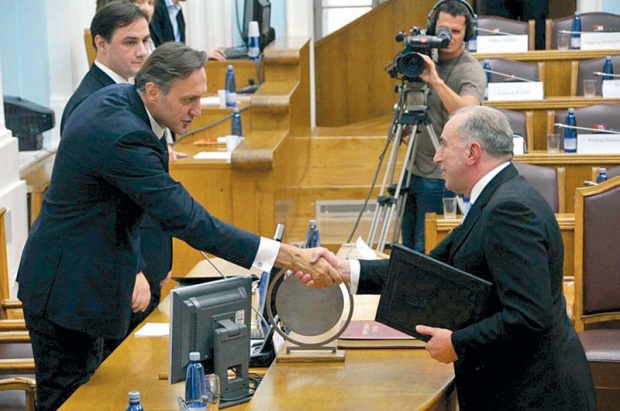 By Adnan Prekic – Podgorica
After more than 18 months, the Montenegrin parliament finally elected a new public prosecutor. The key position in the fight against corruption and crime, which is the biggest challenge in the integration process, went to a multi-year public prosecutor Ivici Stankovicu. The vacant position of the Chief State Prosecutor was empty for 18 months because of constitutional changes. Changes has foreseen two-thirds support in the Assembly for the election of the Chief State Prosecutor, or three-fifths majority in the second round. Previous attempts to select the head of the prosecutor's office were unsuccessful.
Montenegrin parliament chose Ivica Stankovic as the new supreme state prosecutor. Stankovic received support of three-fifths of the deputies and thus ended a period of 18 months that Montenegro has been without an attorney general.
From a total of 51 MPs, for Stankovic voted 49,s while the two votes were invalid. The majority for election of Stankovic besides representatives of the ruling coalition has provided the opposition Socialist People's Party. The rest of the opposition refused to vote for Stankovic, stating that he was the candidate of the ruling party.
Newly elected Chief State Prosecutor Ivica Stankovic, said that the Public Prosecutor's Office will prosecute all cases where there is reasonable suspicion of a criminal offense, and will endeavor for the indictment be legally substantiated and transparent. He declined to comment on the current results of the Prosecution in the fight against organized crime and corruption, especially at high levels. Stanković told the press that they play an important role in the construction of a democratic society, stating that it would be more transparent for the work and that the media is more necessary to him, than he to them.
The rule of law remain the central theme of the future efforts of Montenegro towards the implementation of the negotiating agenda. Key suggestions of European partners are related to the need to strengthen the rule of law, freedom of the Press and diligent respect for human rights. Most of these suggestions are only legally completed, while concrete and measurable results in these areas are still expected. Most of the problems were presented in the fulfillment of the Action Plan in chapter 23 and 24 that are relating to the rule of law and fundamental human rights. Some commitments that derive from the Action Plan are seriously delayed, but no official warning came from Brussels on the issue.
Montenegro is in a negotiation process with the European Union that has officially opened on July 1, 2012. Negotiations have been opened on the most demanding issues highlighted in chapters 23 and 24, which refer to the rule of law and fundamental human rights. In two years Montenegro has opened 12 negotiating chapters, of which chapter 25-Science and Research and 26 Culture and Education  have been temporarily closed.