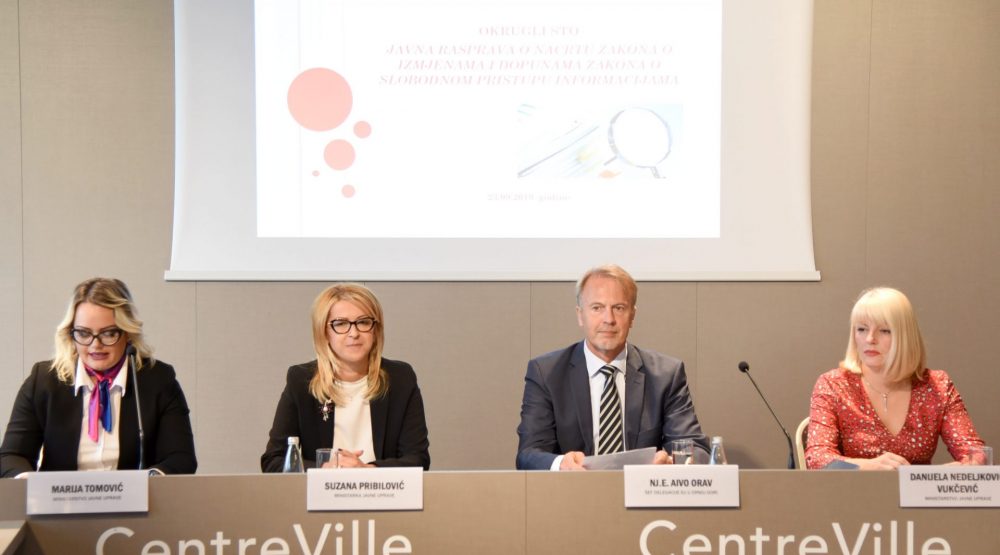 The Montenegrin Ministry of Public Administration organized the roundtable discussion on the Draft Law on the amendments to the Law on Free Access to Information. Minister of Public Administration, Suzana Pribilović, and Head of the EU delegation, Aivo Orav, explained at the beginning the importance of the amendments.
Orav pointed out that confidentiality of data represented a stable basis for the development of corruption. Efficient and service-oriented administration should provide access to all relevant information, particularly to research organizations and journalists.
He said that the last EC Report on Montenegro called on Montenegrin institutions to provide transparency and responsibility, particularly in the areas prone to corruption and in sectors in charge of allocating budget or property.
"It is essential that the law is amended and all recommendations in the EC report taken into consideration", Orav said.
Minister Pribilović said that access to information had public importance and that it was an irreplaceable instrument for carrying out control over the work of state authorities.
"Recognizing the importance for constant improvement of the situation in this area, the Government of Montenegro has recognized the need for proposing amendments to the present law, with the aim of improving the normative framework and creating more efficient conditions for the exercise of the right to free access to information. Proposed amendments define the terms "information" and "state authorities" more precisely. That way it is clear what is considered information and who this law shall apply to", Pribilović said.
Special emphasis has been put on the costs in the exercise of this right. According to the general standard, exercise of this right should be very simple, with as little cost as possible or with no cost at all.
In addition, the amendments propose the introduction of the new institute- abuse of the right to access to information. This institute obliges authorities to prevent any abuse of this right.
"Although we are aware of the fact that transparency of the work of state authorities is an ideal of every democratic society, we should also know that it does not necessarily mean absolute transparency and openness. Citizens shall use provisions of the law in accordance with their purpose and intention", Pribilović said./ibna