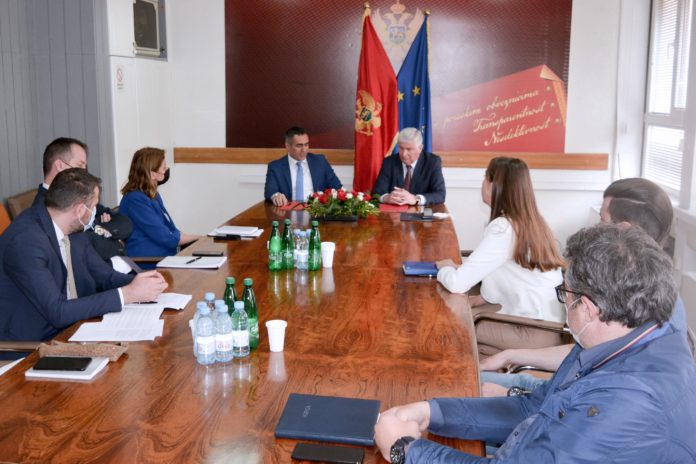 Representatives of the Chamber of Commerce of Montenegro (PKCG) and the Revenue and Customs Administration (UPIC) signed an agreement on cooperation in the field of building the economic system, which will improve the business environment.
The joint statement states that the President of the PKCG, Vlastimir Golubović, and the Acting Director of the Revenue and Customs Administration, Aleksandar Damjanović signed the agreement.
The document states that the two institutions conclude an agreement, reaffirming their commitment to business development as one of the most important factors of social and economic prosperity and their readiness to significantly contribute to the overall competitiveness and economic strengthening of the state through cooperation.
"The goal of the agreement is to establish cooperation in the field of building the economic system, proposing development and current economic policy measures and resolving other issues of importance to its signatories," the document reads.
Damjanović said that the signing of the agreement finalizes and formalizes the agreement with the Chamber of Commerce, which will result in a stronger and long-term cooperation between the institutions.
"Intensive cooperation of the Revenue and Customs Administration with PKCG is necessary and I hope that we will realize more joint activities than we planned. The Revenue and Customs Administration needs a partnership with an organization that brings together Montenegrin businesspersons, as well as a stronger economy that contributes to the growth of state revenues," said Damjanović.
Golubović reminded of the very high-quality cooperation of the Chamber of Commerce with the Tax and Customs Administration, which are now united in the same body under the leadership of Damjanović.
"The priority of activities in the Chamber of Commerce is the fight against the grey economy. The administration of both revenues and customs is an institution that will, along with other state institutions, fight against that plague, and you have the right interlocutor and honest partner in the Chamber," said Golubović.
The subject of cooperation between PKCG and UPIC refers to the improvement of the business environment and protection of competition, mutual exchange of information and data on economic entities, undertaking joint activities in the fight against the grey economy, conducting joint research, implementation of ATA and TIR systems and other public powers transferred from customs regulations.