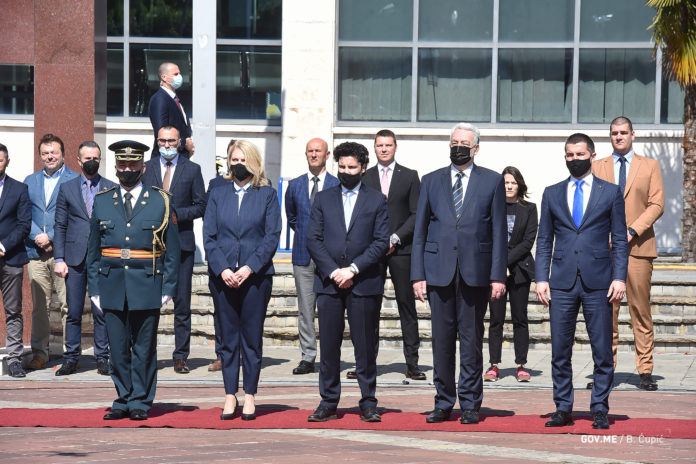 The referendum on May 21, 2006, was the moment when the people expressed their democratic right, said Prime Minister Zdravko Krivokapić and pointed out that the fact that neither the ruling coalition nor the opposition supports the Government means that it is the best so far.
At the ceremony marking the 15th anniversary of Montenegro's independence, Krivokapić said that the basic message of the European Union (EU) is in the differences that require the greatest unity.
He said that Montenegro is a country of all, in which everyone should feel the benefits, without that feeling being selective.
"There will be no "change of course" in Montenegro, and the government is absolutely civil. Neither the ruling coalition nor the opposition gives support to this government, which means that it is the best," Krivokapić said.
The Government stated that Deputy Prime Minister Dritan Abazović, Parliament Speaker Aleksa Bečić, Defence Minister Olivera Injac and Montenegrin Army Chief of Staff Brigadier General Milutin Đurović also attended the Independence Day celebrations.
The President of Montenegro, Milo Đukanović, pointed out in the author's text that "Montenegro has a solid foundation and is capable of responding to the challenges of internal turmoil and uncertainty in the regional and global context."
He added that the referendum on May 21, 2006, was a confirmation of the historical uniqueness of Montenegro.
"It is an unprecedented case, not only in Montenegro but also in the history of the Balkan peoples. This corrected a great historical injustice and traced our European and Euro-Atlantic path. The best choice for all our citizens ", said Đukanović.
He said that for this decade and a half, they have strengthened the economic viability of Montenegro, free of subsidies and subsidized mentality that insulted state and civic dignity, reports Pobjeda.
"In the period behind us, we have strengthened the stability of Montenegro and its multi-ethnic and multi-religious harmony," said Đukanović.
In the end, as he emphasized, they returned Montenegro to the European home.
"We resolutely stood in the way of adopting the European value system and made progress that qualified us for membership in NATO, the most powerful political and military alliance in the history of mankind," Đukanović said