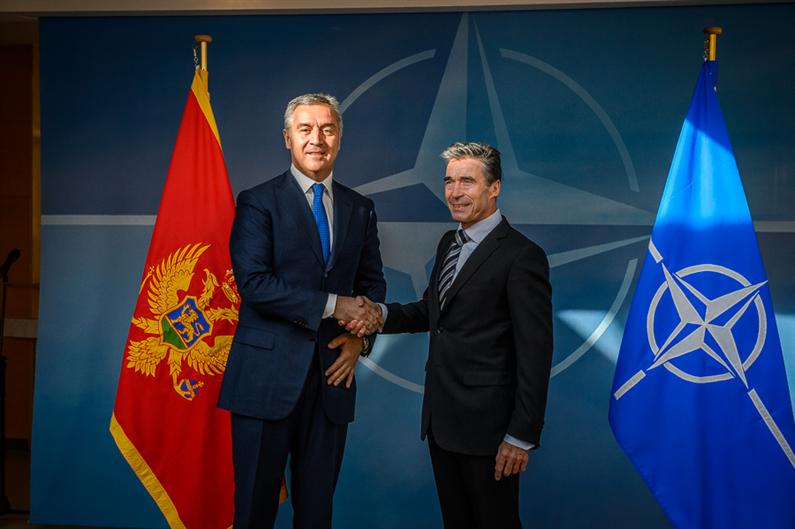 By Adnan Prekic – Podgorica
The intense bilateral activity in Montenegro ahead of the NATO summit in Wales, continued with a meeting of Prime Minister, Milo Djukanovic, with NATO Secretary General Anders Fogh Rasmussen. During the meeting in Brussels, Djukanovic said that Montenegro is a serious membership candidate. The Secretary General of NATO did not reveal whether or not Montenegro will get an invitation for membership on the upcoming summit, but noted that many reforms have already been completed and that Montenegro is on the right track.
The NATO membership for Montenegro was presented as the most important foreign policy priority for the country this year. The main political parties who are in favor of NATO launched a broad debate among its members, which, and opinion polls revealed a large support for the NATO integration. The political processes go hand in hand with the process of military reform and adjustment of Montenegrin security system to meet NATO standards. The third element of the integration process is the intensive bilateral communication between Montenegrin and foreign officials. The President of the State and the prime minister had several meetings with their colleagues whose countries are already members of NATO. For ten days the Prime Minister will be trying to gain the support of a full-fledged membership in NATO from U.S. Vice President, Joe Biden, while he is also scheduled to meet with Rasmussen.
Montenegro expects that NATO will register the achieved progress and that this will result in an invitation to join the Summit in Wales, said Prime Minister, Milo Djukanovic. Montenegro is aware that membership is a big ambition and that at the moment NATO's attention is focused on other issues. Djukanovic said that Montenegro has fulfilled its obligations in terms of regional stability and has good relations with all its neighbors. He said that the key issue in Western Balkans is stability and should be dealt with before its integration. Djukanovic reminded Rasmussen that according to the test of public opinion in March, 46% of the population supports the Montenegrin accession to NATO, which represents an increase of nearly 15% over the previous year.
NATO Secretary General, Anders Fogh Rasmusenom, said that the meeting at the headquarters of the Alliance reflects the progress in the relations. "Congratulations on the progress you've made ​​so far in the reforms and its implementation, and thank you for your dedication to Euro-Atlantic integration", said Rasmussen. The Alliance has identified the key challenges of Montenegro in the Euro-Atlantic integration, such as the fight against corruption and organized crime, the modernization of the armed forces and the explanation to the citizens what the process of integration involves. The situation in Russia will have no effect on the open-door policy. We have not made ​​any decision yet, we are in the process of preparing for the summit in Wales and we are in contact with the aspirant countries, said Rasmussen.