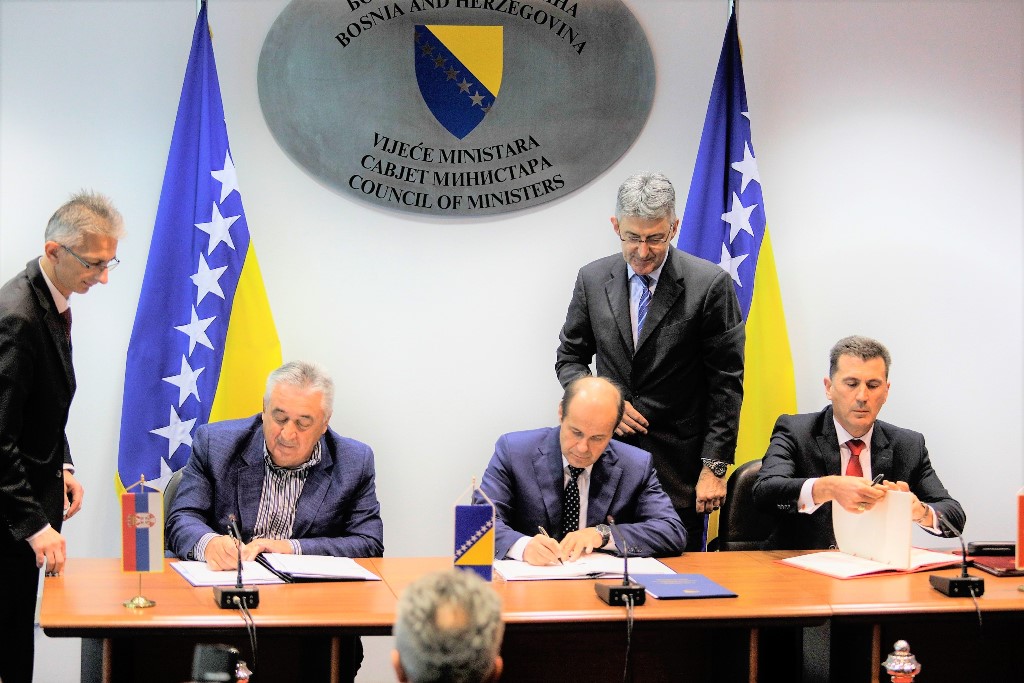 Montenegro's State Secretary of Interior Ministry Dragan Pejanović signed in Sarajevo the "tripoint protocol" between Montenegro, Bosnia and Herzegovina and Serbia. The protocol determines the point of the border where three states meet and it represents a step forward in regulating the borders, in line with international law.
In behalf of Serbia, the protocol was signed by Serbia's Interior Ministry Secretary-General Veljko Odalović and οn behalf of the host country, BiH, Minister of Civil Affairs, Adil Osmanović.
Odalović and Pejanović agreed with Osmanovic, saying that "the protocol is a true step forward in regulating border issues in line with rules and principles of the international law."
"The countries of the Western Balkans show a clear commitment to European values ​​and addressing the challenges characteristic of this region, recognized by the European Commission's Strategy on the credible prospects of the Western Balkans," Pejanović said.
He added that the signing of the Protocol on the Determination of the Triple Border Checkpoint confirms the readiness of countries emerging from the former Yugoslav federation to resolve bilateral issues with their own negotiating capacities.
"Montenegro, at the Summit in London, in the framework of the Berlin Process, in July 2018, with the signature on the Declaration on Good-neighbourly Relations, where the constructive role of Montenegro in defining and improving relations with its neighbours was established, committed itself to concrete activities on completing border issues with neighbouring countries," Pejanović stressed.
He also said that in the process of joining the European Union, Montenegro takes concrete steps, not only in completing border issues, but also in respecting territorial integrity and sovereignty and promoting good neighbourly relations, which contributes to strengthening regional cooperation and progress of the region as a whole.
Osmanović said that the determination of the three countries' borders through bilateral and multilateral negotiations will enhance regional cooperation and mutual respect. He added that the signatory states showed their readiness to resolve the open border-related issues and that the Protocol on the Determination of the Border Point between the three countries contributes to the strengthening of friendly relations. Odalović pointed out that Serbia's absolute foreign policy priority is solving open regional issues and regional cooperation.
The signatories of the agreement jointly expressed gratitude to the competent commissions for the border of Montenegro, Bosnia and Herzegovina and Serbia, which, through joint expert measurement on the ground, determined the position of the three borders, drafted and agreed upon the text of the Protocol on the determination of the three-border border point./ibna