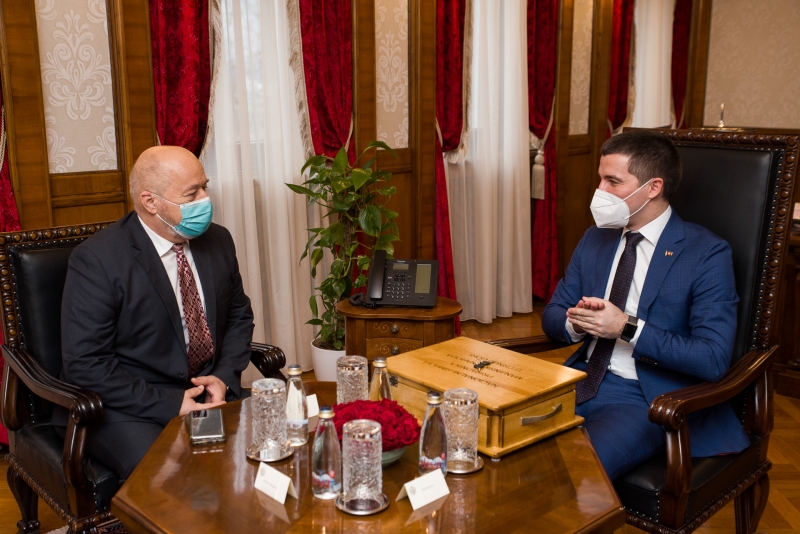 Montenegrin Parliament Speaker Aleksa Bečić met today with representatives of the Croatian National Council in Montenegro, President Zvonimir Deković and Adrian Vuksanović, a member of the Council and President of the Croatian Civic Initiative (HGI), the Montenegro Parliament press office announced.
Welcoming the presentation of the standards of the coat of arms, the flag, as well as the musical notation of the anthem of the Croatian people in Montenegro, Bečić said the active participation of the Croatian National Council served as an indicator of multinational and multi-religious harmony fostered by country.
"Montenegro seeks to affirm diversity as our greatest wealth. Mutual respect and understanding are the only path to follow to build a truly civil Montenegrin society," he stressed.
The President of the Parliament underlined that the Parliament of Montenegro was home to all national minorities and minority communities in Montenegro, adding that all political stakeholders should contribute to cultivating conditions in which members of minority nations can exercise their rights.
Representatives of the Croatian National Council stated that the foundation of modern Montenegro laid in its multiethnicity and that it could be proud of what the Croatian community has woven into its culture. They expressed satisfaction with the fact that "the highest authority of the Parliament is left with standards of the coat of arms, the flag and the musical notation of the anthem" and in that regard he extended an invitation to Bečić to visit the Municipality of Tivat and the Croatian National Council.
The meeting was an opportunity for the interlocutors to exchange, among other things, views on current political developments, with an emphasis on the activities of the new parliament and priorities for the period ahead.
According to the Law on Selection, Use and Public Display of National Symbols, the standards of the coat of arms and flag, as well as the musical notation of the anthem are determined by the decision of the national minority council or the council of another minority community. The President of the Parliament of Montenegro keeps the original of the coat of arms, the original of the flag and the musical notation of the anthem. /ibna