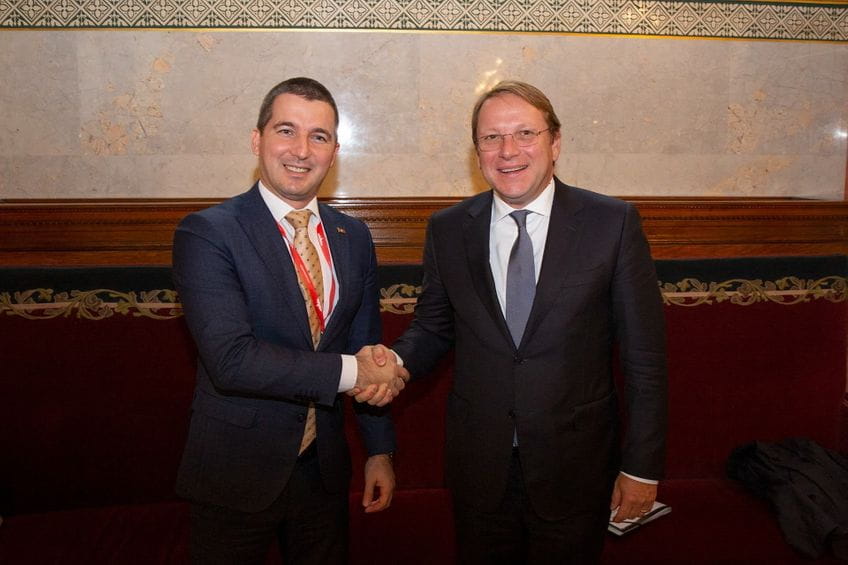 The President of the Parliament of Montenegro, Aleksa Bečić, met with the Commissioner of the European Union for Neighbourhood and Enlargement, Oliver Varhelyi, Bečić Office announced.
Referring to the commitment of European institutions to the enlargement policy, the President of the Montenegrin Parliament reminded that Montenegro is the only candidate country that has opened all negotiating chapters and temporarily closed three. He said that full membership in the EU remains a strategic goal of Montenegro and a commitment that has no alternative. As he emphasized, Montenegro is determined to complete the started reform processes.
In that context, Bečić mentioned that Montenegro highly values ​​unequivocal support for the European perspective of the Western Balkans, "which the European Union has once again confirmed in its proposal for a new negotiation methodology."
Expressing the expectation that the new methodology will give additional impetus to the accession process, Bečić pointed out that the decision to adopt the new approach is a political reflection of the readiness to "build the process and work on it" in a more intensive dialogue with the EC and member states.
Precisely in the light of the application of the new methodology for EU accession, Montenegro, as assessed by the President of the Montenegrin Parliament, has two strong arguments for high-level political dialogue: it is the only candidate country that has all chapters open, and consistently and timely harmonizes with the Common Foreign and Security Policy of the EU, which is a strategic landmark that in economic terms was not easy for Montenegro, but also a clear indicator of geopolitical orientation, including as a full member of NATO.
Stating that he is familiar with the political and social developments in Montenegro, European Commissioner for Neighbourhood and Enlargement Oliver Varhelyi said that he supports Montenegro's efforts in the process of joining the EU.
As the commissioner pointed out, he began his mandate with the strong goal that "by the end of the mandate," at least one member of the Western Balkans will bring the process of joining the European Union to the finalization phase. "
The interlocutors agreed that it is necessary to continue achieving significant results in all fields, which will provide Montenegro with entry into the European Union as soon as possible.
The meeting was also an opportunity for the President of the Montenegrin Parliament to thank for the wholehearted help of the EU and its member states in dealing with the consequences of the coronavirus pandemic.