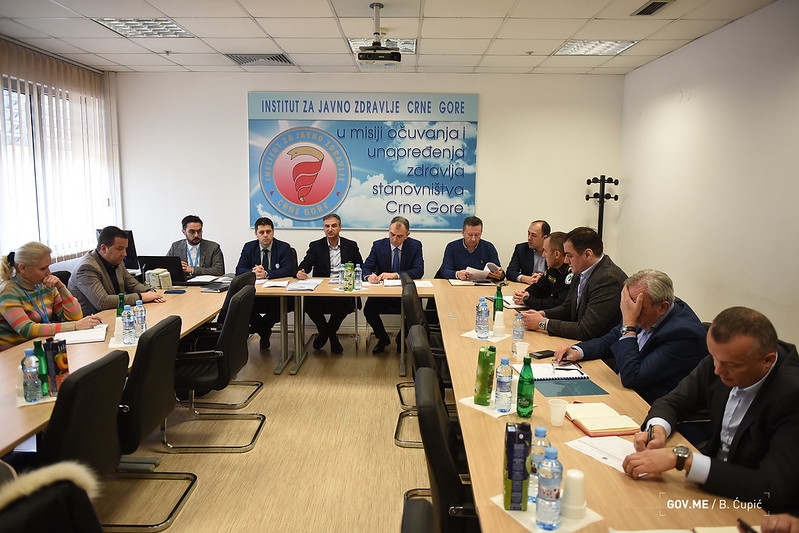 The health risk for the population of Montenegro to suffer an infection from the novel coronavirus is currently considered to be high compared to the previous levels which were moderate – said Minister of Health Kenan Hrapović at today's session of the National Coordination Body for Communicable Diseases, pointing to the risk assessment carried out by the Institute of Public Health.
The Minister briefed the members of the National Coordination Body on the facts upon which the risk assessment is based.
"The wide spread of the virus within Italy with which Montenegro shares cultural and transport links, as well as the growing number of affected provinces and areas imply a high certainty that the infection within Italy will continue to expand despite intensive and emergency prevention and suppression measures. The number of countries and regions in Europe that report an increase in the number of coronavirus cases, especially those in the nearby area -and I am mostly talking about Croatia and North Macedonia- has gone up. The number of countries and regions across the world that have coronavirus cases transmitted from Italy such as Sweden, Switzerland, Norway, Finland, Austria, Romania, Nigeria, and so on, has also increased. What is important is the likelihood of cluster formation. It is well known that once a virus is transmitted from the affected area, it starts spreading very easily and quickly among the local population. This is probably because there is a portion of suspicious cases with mild symptoms for which medical attention is not sought, alongside the possibility of asymptomatic infectious cases. Their increase, as well as the number of countries besides China reporting cases of infection from the novel coronavirus, constitute potential sources of infection for the population of Montenegro", Hrapović stated.
The Minister once again underlined that there was no reason to panic and that all measures were being taken for a timely response to the current endemic spreading across the world.
Senad Begić, PhD, epidemiologist and deputy director at the Institute of Public Health, said 566 new cases of coronavirus had been reported in Italy in the last 24 hours, indicating that local transmission had intensified, which consequently meant that the risk for the virus to jump across the borders of Italy over to neighbouring countries was high.
"Apart from that, there have also been cases where the virus was transmitted to some more remote countries in Africa, most notably Nigeria, Egypt and Algeria, directly linked to Italy. Currently in Europe 30 countries are reporting new coronavirus cases and it is expected that the first case will be reported in Montenegro shortly. It should be noted that this development is not unexpected, as it is something for which we have been preparing ourselves for weeks, and therefore all plans of action for this situation have been elaborated and have been tested and are almost totally effective", Begić added.
Begić also said that in Europe the highest number of cases was currently recorded in Germany, followed by Spain, the United Kingdom and other EU countries. /ibna