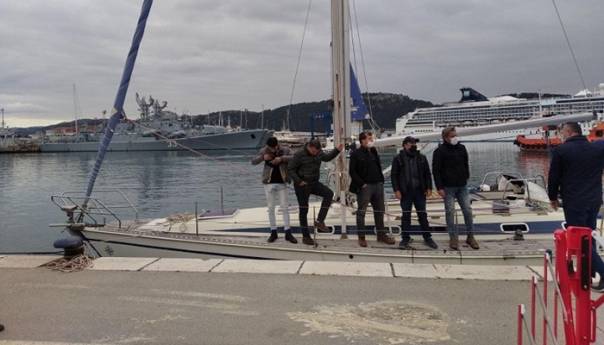 The Police and Maritime Security Administration vessels of Montenegro stopped a sailing boat carrying about 50 migrants at sea, preventing the illegal crossing of the state border.
The Police Administration told the media that the operators of the Regional Center of the Border Police South detected last night with the Maritime Security Administration radar subsystem the departure of an unknown vessel from the Trsteno bay.
"Operators of the Regional Center for South Border Police last night detected the departure of an unknown vessel from Trsteno Bay with the radar subsystem of the Maritime Safety Administration. Positive that this vessel would cross the state border illegally heading for the open sea, NCC Podgorica requested the immediate dispatchment of the Guardia di Finanze observation helicopter as part of the JO MONTENEGRO Maritime joint FRONTEX operation," the police officially announced today.
It was stated that the thermal imaging observation sensor detected a large amount of heat in the lower deck of the vessel, which indicated the presence of a larger number of people.
"The vessels of the Police and Maritime Safety Administration were sent to the location of the sailboat, which was stopped in the economic zone after a chase. It has been since determined that about 50 migrants were on board," the police announced.
It was determined that the vessel is named "Poseidon" and sails under a Swedish flag.
A similar case was reported a little over two months ago, when the Montenegrin Police stopped a ship carrying 52 migrants of Turkish citizenship, who were intending to illegally cross the state border and enter Italy. The migrants were hidden in the lower deck of a boat sailing under a Croatian flag, while the crew had Serbian citizenship.
Unofficially, attempting to illegally across the sea from Turkey to Italy can cost up to 6,000 euros per person. /ibna