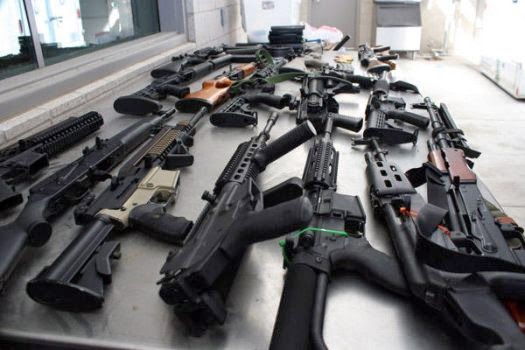 Podgorica, December 18, 2014/ Independent Balkan News Agency
By Adnan Prekic
The Montenegrin police have arrested two citizens of Romania and one Italian man who are suspected of international arms smuggling. As was announced by the Montenegrin police, the arrestees were suspected of have in their possession weapons with the intend to sell them to Colombian terrorist organization.
Police reported that the suspects do not have accomplices in Montenegro. The operation that led to the arrest was carried out on the basis of Interpol arrest warrants, issued by a US court in Washington.
The three men who were arrested in Montenegro have been charged in a New York court with conspiring to kill Americans and aid terrorists and have been labeled by prosecutors as international arms traffickers. All three were charged with conspiracy to kill officers and employees of the United States and with conspiracy to provide material support or resources to a Colombian rebel group, according to the indictment that was previously sealed.
Administrator of the United States Drug Enforcement Administration ("DEA"), announced the arrests of Cristian VIntila , Massimo Romagnoli , and VIrgil Flaviu Georgescu, international arms traffickers charged with conspiring to sell large quantities of military-grade weaponry to the Fuerzas Armadas Revolucionarias de Colombia (the "FARC") – a designated foreign terrorist organization – to be used to kill Americans in Colombia.
The outstanding investigative efforts of the DEA's Special Operations Division, the DEA's Bucharest Country Office, the DEA's Rome Country Office, the Montenegrin National Police, and the Romanian Authorities.
During their consensually recorded meetings, Vintila and Romagnoli provided the CSs with catalogues of military-grade weapons they were prepared to provide the FARC. The list of weapons provided by Vintila includes pistols, machine guns, and other high-powered weaponry, and Romagnoli showed the CSs a catalogue that included automatic weapons and shoulder-fired rocket launchers.
Romagnoli additionally showed one of the CSs a sample fraudulent EUC. Vintila, Romagnoli, and Georgescu also discussed the logistics of receiving payment for the weapons from the CSs and delivering the weapons to the FARC.
The U.S. government in 1997 designated FARC as a foreign terrorist organization. According to U.S. prosecutors, FARC is the world's largest supplier of cocaine, and FARC members have murdered and kidnapped Americans in retaliation for U.S. assistance to Colombia's anti-cocaine crackdown. An accused FARC member was extradited in November to the United States to face hostage-taking and terrorism charges.