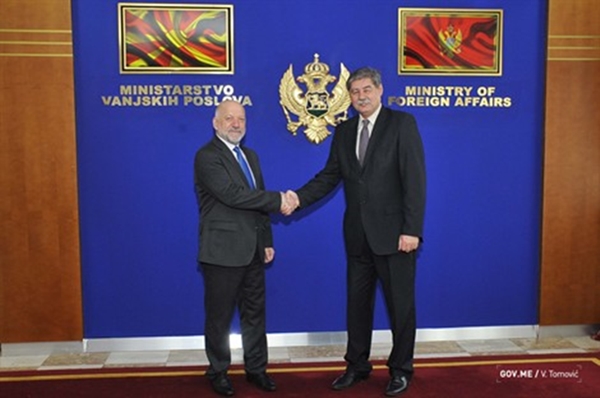 Relations between Montenegro and North Macedonia are an example of good neighbourly politics and regional cooperation. This was assessed at the 7th bilateral political consultations of the foreign ministries of two countries, that take a place today in Podgorica. The delegations were led by state secretaries Ambassador Zoran Janković and Ambassador Viktor Dimovski.
State Secretary Jankovi expressed satisfaction with the wide cooperation of Montenegro and North Macedonia, as well as friendly and open relations, confirmed by intense political dialogue at the highest level. He particularly noted the excellent cooperation in the area of ​​foreign affairs and defence, pointing out that there is room for improvement of economic relations, especially in the areas of tourism and infrastructure.
On his part, Ambassador Dimovski welcomed the excellent bilateral relations and thanked for the prompt ratification of the Protocol on the accession of North Macedonia to NATO by the Montenegrin Assembly, stressing that the overall cooperation between the two countries will be further strengthened through the Euro-Atlantic alliance.
It was jointly stated that the contractual and legal basis is very good and, while both sides highlighted the importance of its continuous strengthening.
In the context of accessing the European Union, Ambassador Janković informed the interlocutors with the dynamics of the reform process and progress in that regard, saying that Montenegro expects the last negotiating chapter to be opened this year. He welcomed the steps taken by North Macedonia in the European integration process, adding that Montenegro will continue to provide strong support and assistance.
At today's consultations, the interlocutors agreed that close regional cooperation and the realization of joint projects are the most effective way to become members of the society of the most developed European democracies./ibna