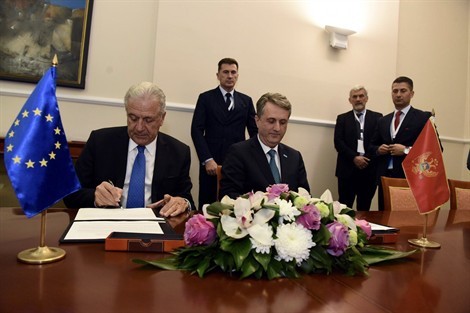 Montenegro's Minister of Internal affairs, Mevludin Nuhodžić emphasised today, after the EU – Western Balkan Justice and Home Affairs ministerial forum, that Montenegro and the European Commission signed an Agreement on the implementation of the Joint Action Plan on Combating Terrorism in the Western Balkans.
"The agreement that I have signed with European Commissioner for Migration, Home Affairs and Citizenship Dimitris Avramopoulos is one more evidence of Montenegro's absolute commitment to the European values and policies. We are aware that more and more effort is always needed in this area. With EU's support, Montenegro will work to strengthen national capacities in the prevention, prevention and suppression of terrorism, violent extremism and radicalisation," Nuhodžić stated at the EU – Western Balkans ministerial forum on Justice and Home Affairs, which he attended at the invitation of Minister of the Interior of Finland Maria Ohisalo and Deputy Prime Minister and Interior Minister of the Republic of North Macedonia, Oliver Spasovski.
Nuhodžić highlighted the importance of the fact that the Western Balkans and European Union Ministers of Internal Affairs are in Skopje today, because once again it reaffirmed the commitment of the EU to cooperation with Western Balkan partners in the area of security.
"Montenegro as a country where regional cooperation is one of the foundations of politics, as a country that has no open issues with any country in the region and as a leader in the European integration will continue to be a firm supporter of EU in cooperation with the Western Balkan countries. The countries of the region agreed earlier today to boost cooperation with the European Border and Coast Guard (FRONTEX) and with the EUROPOL in effective monitoring, better border management, while respecting human rights, combating human trafficking, smuggling of migrants and improving accommodation for migrants," Nuhodžić stressed.
It is clearly announced that the EU will continue to support us, which will contribute to the increasingly stable and secure Western Balkans and further progress towards full membership in the EU, Nuhodžić stated.
"A stronger Western Balkans means a stronger Europe. IN this way the Western Balkans integration into the EU is an investment in the security and stability of Europe as a whole. This is in the interest of our citizens, which is the fundamental aim of all of us who believe in the European unity and community", Nuhodžić concluded after the EU – Western Balkan Ministerial forum on Justice and Home Affairs, which was held in North Macedonia./ibna