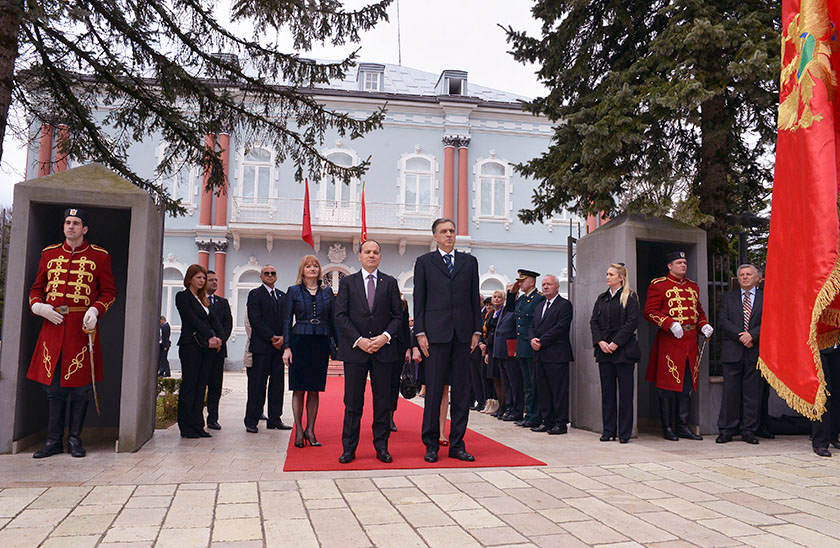 Podgorica, March 24, 2015/ Independent Balkan News Agency
By Adnan Prekic
The official visit of the Albanian President Bujar Nishani was a chance to once more take note of exceptionally good relationships between the two countries. Albanian president said that Montenegro and Croatia are an excellent example of how a country should be implementing a process of European integration. It was also concluded that the Albanian community has a strong good position in Montenegro, which represents a good bridge of cooperation between the two countries. There was also the announcement of the tender for the road from Podgorica to Plav through Albania, which will significantly shorten the travel time between the south and northeast of Montenegro.
For Albanians, Montenegro is not only a neighboring country but also friendly country, with which official Tirana share common goals and values, said the president of Albania Bujar Nishani. Montenegro is "one step ahead" of Albania when it comes to European Union ambitions, said Albanian President Bujar Nishani on Monday. Nishani was speaking during an official visit to Montenegro where he said that Albania – still embroiled in EU membership negotiations – supported the moves by the former Yugoslav state to join the EU and NATO.
Speaking alongside Montenegrin counterpart Filip Vujanovic in the secondary capital, Cetinje, Nishani described Montenegro and Croatia as an "example for other Balkan countries". Vujanovic said his country was willing to exchange its EU membership experiences with NATO member Albania. Vujanovic said that Nishani's visit to Montenegro is seen as the confirmation of a close, friendly and good neighborly relations.
"There are no open issues between the two countries and there is an open space for cooperation in many fields, especially in economics. We discussed our cooperation in the field of integration processes. Montenegro, which is in the process of accession to the European Union, is ready to share its experiences with Albania. On the other hand, Albania supports the NATO integration of Montenegro, which is particularly important for us, because Albania is a member of NATO and our neighbor", said Vujanovic.
The topic of presidential talks was also a cooperation in the field of infrastructure. It was announced that the road Plav-Podgorica, which partially passes through the Albanian territory, will be completed by the end of 2016. "Both countries should support two major projects in regional terms, the Adriatic-Ionian route and the Ionian Adriatic Pipeline. In the field of transport infrastructure, we particularly emphasised the main road between Plav and Podgorica, which should be completed by the end of 2016. That road would cut traffic distance between Plav and Podgorica to 120 kilometers", said Vujanovic.