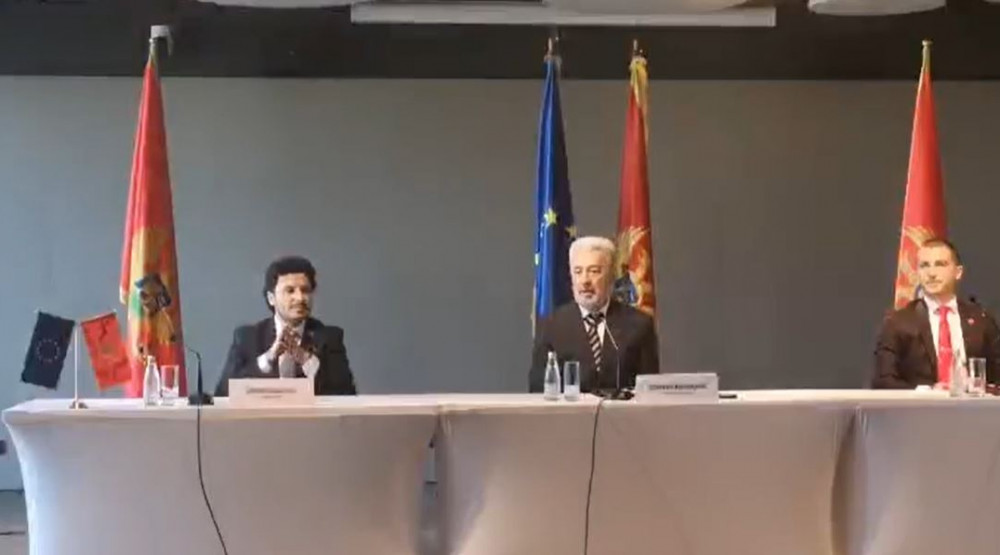 The leaders of the Democratic Front of Montenegro, Andrija Mandić and Milan Knežević, met last night in Podgorica with the president of the Civic Movement URA, Dritan Abazović, in an attempt to come closer on controversial issues among partner coalitions that make up the parliamentary majority in the new Montenegrin Parliament. One of the leaders of the DF, Milan Knežević, confirmed the information about the meeting to the media.
"It is true that we met with Abazović. Significant progress was made in direct talks because Abazović said that he was ready to work with us on the withdrawal of the Law on Freedom of Religion, which is a precondition for the DF for talks on forming a government", Knežević said.
Last week, in separate talks with Prime Minister-designate Zdravko Krivokapić, Mandić and Knežević demanded that the Law on Freedom of Religion be withdrawn before the government is formed, and that, later, the state of Montenegro sign a fundamental agreement with the Serbian Orthodox Church Synod and Patriarch Irinej.
In the meantime, the vice president of URA, Filip Adžić, announced that this coalition is against the withdrawal of the Law and that he insists on revising the disputable articles of the Law. This blocked the negotiations on the formation of the Government. Abazović did not comment on the allegations of his vice president.
Apart from Adžić, Božena Jelušić also disagreed with its abolition, so there was no majority in the parliament to withdraw the law.
Knežević said last night that "progress has been made when it comes to the principles on which the future government will be based".
"We have not yet talked about specific names and staff", Knežević concluded.
The candidate for prime minister-designate for the composition of the new government, Zdravko Krivokapić, held talks with the President of the Right Montenegro (Prava Crna Gora) party, Marko Milačić, yesterday, as part of the consultations on the formation of the Government. It was said at the meeting that the new Government must be committed to the interests of the citizens of Montenegro, as the only goal.
Milačić said that Prava Crna Gora, and he personally, give their full support to Krivokapić.
"We believe that thε process of forming the Government, in accordance with the unequivocal electoral will of the citizens, should be brought to an end as soon as possible. After Zdravko Krivokapić officially becomes prime minister designate, Montenegro should get what it has been waiting for three decades – a government composed of competent, moral and confirmed people, who will be dedicated to only one goal in their work – the interests of the citizens of Montenegro", Milačić stressed./ibna