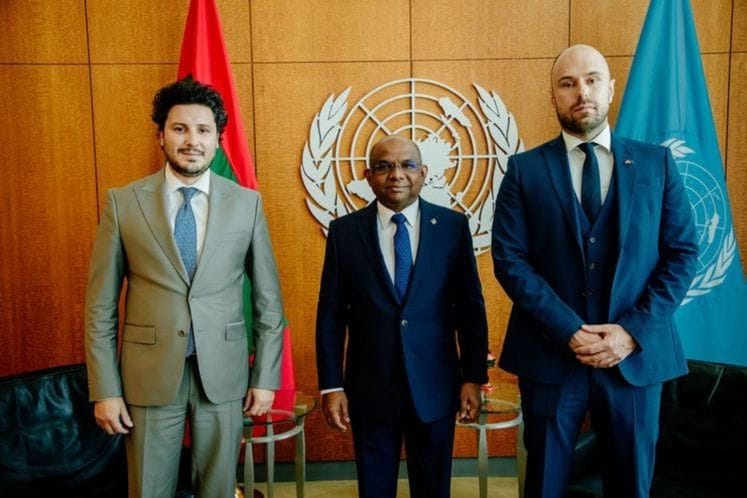 The Deputy Prime Minister of Montenegro, Dritan Abazović, and the Minister of Foreign Affairs, Đorđe Radulović, met in New York with the Chairman of the United Nations General Assembly, Abdul Shahid, the Montenegro government announced.
"Montenegro will continue to contribute to the preservation of global peace. Together, we are strengthening the cosmopolitan spirit of the world community," Abazović said.
He added that the fundamental values ​​on which the UN is based have historically been incorporated into Montenegrin society, which today inherits the values ​​of a multicultural, multi-ethnic and multi-confessional community.
"The Government of Montenegro is committed to the values ​​of the UN and respect for the Charter and international obligations, achieving the goals defined in the 2030 Agenda, as the main guidelines for international action and cooperation of Montenegro with the UN system," said Minister Radulović.
He pointed out that Montenegro continues to work with great intensity to improve and support the integration of the human rights dimension into all aspects of the UN's work.
"Small countries can do a lot to improve the situation around the world. Our commitment is to give people hope that we can provide a better tomorrow in relation to the COVID-19 pandemic and environmental protection. No one is safe until everyone is safe. We need to work together and share common and successful stories, "said UN General Assembly President Abdullah Shahid.
The interlocutors agreed that climate change is one of the biggest challenges today and that Montenegro should continue to contribute to reducing global emissions.
The Montenegrin delegation also met with representatives of the diaspora, which is predominantly made up of citizens from Ulcinj, Bar, Tuzi, Krajina, Ana Malita, Plava and Gusinje.
"Our diaspora is an unused gem. We want them to invest even more in Montenegro and for the state to value it much more than has been the case so far," said Abazović.
Radulović pointed out that the Government was "strongly determined to nurture relations with emigrants".
"Thank you for continuously investing and helping Montenegro, especially in difficult moments," said Minister Radulović.
During the discussion, Abazović, Radulović and representatives of the diaspora exchanged opinions on many issues, especially the possibilities of stronger cooperation with the home country, but also the current political situation in Montenegro.