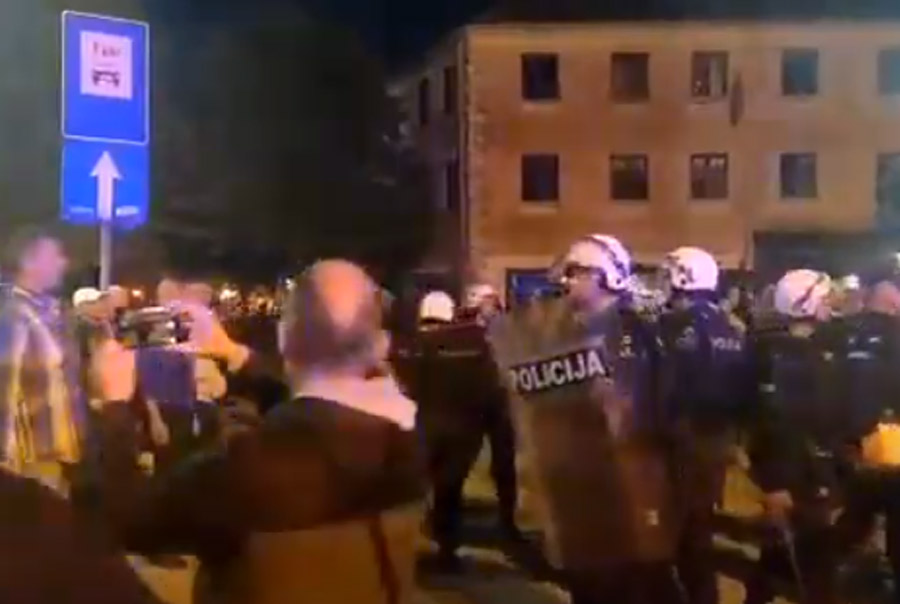 Following the arrest of Budimlje-Nikšić Bishop Joanikije and several priests of Serb Orthodox Church (SOC) in Montenegro, believers gathered to protest in cities of Pljevlja and Nikšić. Police used teargas to break the unrest and several persons, including police officers, were injured.
The priests were detained for performing a liturgy for the celebration of St. Basil Day, despite the Government's ban on gathering during the coronavirus pandemic.
The protesters yelled: "We won't give up our shrines", "Set the bishop free…". The SOC in Montenegro said it did not condone any gatherings and distanced itself from the events in the streets.
According to the media, children were among the demonstrators in Pljevlja when the police threw teargas and shock bombs. SOC priest Miloš Cicmil said on the social networks that his minor brother was heavily beaten, police sprayed teargas on him and several police officers brutally hit him in the body and head with their boots. As Cicimil wrote, his brother was taken to the police station where his father found him and he was then transported to the emergency hospital.
The police said people were throwing stones, bottles and pyrotechnics on them and that two officers were injured.
Earlier on Wednesday, SOC Patriarch Irinej and Serbian President Aleksandar Vučić said they were concerned over the arrest. Also, it was reported that Bishop Joanikije and the priests were complaining about the decision for the detention, but their complaint was refuted. That was what triggered the large gatherings and further clashes between police and people on the streets.
Relations between the Montenegrin Government and the Serb Orthodox Church in the country have been tense for a long time now, since adoption by the state of the disputed Law on religious freedom, which by the SOC was evaluated as a law "to confiscate Church property".
Protest walks were held in other places in northern Montenegro – Berane and Andrijevica, the coastal town of Budva, while in the capital Podgorica people protested by driving through the streets./ibna