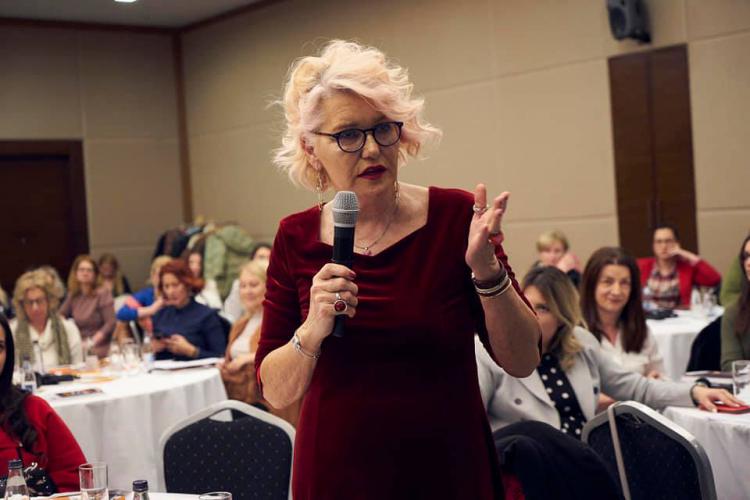 Only 2% of the perpetrators in cases where women and girls experienced sexual violence in Montenegro faced punishment. Of these, only one per cent was punished on a prison sentence, according to a survey by the NGO 'Women Safe House', NGO SOS hotline for women and children who are victims of violence and NGO Prima. The survey found that as many as 64% of women experienced sexual violence from a partner, and only 12% reported such incidences.
"Believe in women, trust in children. Whenever you hear of an incident, please report it. This goes for medical professionals, as there is where we have the worst experiences of reported rapes. Parents say 'Don't report it', and medical professionals say 'Do not report it'. This is a crime", said Ljiljana Raičević, from Women Safe House.
Sexual violence has been high on the EU's agenda over the last few years, with the European Commission having presented its strategy for equality between women and men in Europe, stated Plamena Halacheva, the Head of Sector for European Integration, Political Affairs, Media and Information.
"While the EU is a global leader in gender equality and has made significant progress over the last few decades, no EU Member State has so far achieved equality between women and men, and gender-based violence and stereotypes continue to persist: one in three women in the EU has been subjected to physical and/or sexual violence, while 55% were sexually harassed. Women in Europe must be free from violence and harmful stereotypes. "To achieve this, the Strategy calls for legal measures to criminalise violence against women, notably by extending and harmonising the definition of such crimes across Europe regarding specific forms of violence against women, including sexual harassment", Halacheva stated.
According to Halacheva, the results of the survey show that, first, strong laws as well as an effective justice system, are needed.
"In addition to strengthening the legal framework and institutions, we should also work on awareness-raising and education, improving services for survivors, addressing the root causes of violence, and promoting women's empowerment. In short, we need to work on all fronts", Halacheva stated.
The survey shows that sexual assault charges were dismissed in 70% of prosecutors' cases, as proving guilt without a victim's statement is difficult.
"The abuser is usually of a mindset where he does not acknowledge participation in the event, either because he does not understand what he has done, or it has become normal in his behavioural model. It is clear, therefore, how important the testimony of the victim is towards proving guilt", stated Danka Ivanović-Đerić of the High State Prosecutor's Office.
"Violence against women is a serious problem, and the solution should therefore be joint and systematic", stated the Ministry of the Interior. The government's policy is clear, stated State Secretary Dragan Pejanović.
"Preventing and suppressing violence against women, and, should violence occur, responding effectively towards adequately protecting the victim by giving them adequate assistance and protection, while ensuring the offender is properly prosecuted and punished", Pejanović stated.
The state is determined to stand in the way of any form of violence against women, concluded a conference titled "Enlighten, Believe, Act" – encouraging women not to remain silent, to report violence, and not to tolerate such incidences./ibna