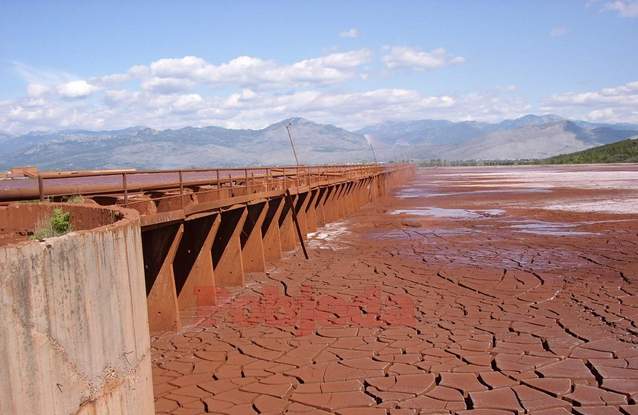 By Adnan Prekic – Podgorica
Montenegro in 1991 proclaimed itself as an ecological state. However, with the exception of legal norms, in practice, not much has changed and now in the country there are several so-called environmental hot spots. Prior to the opening of negotiations with the European Union in the field of environmental protection, the Montenegrin government wants to resolves these issues. The plan is to financed the rehabilitation of these environmental hot spots with a 50 million loan from the World Bank.
The World Bank with these 50 million plans to fund waste management and remediation of environmental hot spots in Montenegro. The World Bank loan was approved for 27 years. According to official government data, the agreement with the World Bank foresees that the loan is repaid over a period of 27 years with a grace period of five years.
The World Bank loan will finance the rehabilitation of the landfill within the Aluminium Plant and two red mud pool of toxic waste (photo). There are also plans for the rehabilitation of the slag and ash near the Thermal Power Plant Pljevlja, the mine tailings "Šuplja stijena" and the treatment of grit in the shipyard "Bijela". The project also includes the sustainable management of industrial waste that will arise in the future.
Apart from the chapters on the rule of Law and the struggle against the corruption and organized crime, one of the most difficult chapters in Montenegro negotiations with European Union will certainly be Environmental Protection. The European Union requirements in the area of environmental protection are contained in Chapter 27, and Montenegro is currently not prepared to begin talks with Brussels on this issue.
According to official data, in 2011 Montenegro has generated 6,576 tons of hazardous industrial waste. Screenings of non-governmental organizations indicate that this number is much higher. Due to situations such as these, the European Commission recommended that the montenegrin chapter of Environmental Protection will open only when it meets certain requirements.
Montenegro is the first country in the world which declared itself as an ecological state. The Montenegrin Parliament adopted the Declaration on the Ecological State in the northern town of Žabljak on September 20, 1991, amidst turbulent times for the whole region, which marked the beginning of an increased public awareness of the need to preserve the environment. The following year, the commitment expressed in this declaration became part of the Montenegrin Constitution.
Due to the Balkan conflicts in the 90s, reality did not correspond with the bold and advanced proclamations of the Declaration and the Constitution. However, in the past decade and particularly since the restoration of Montenegro's independence in 2006, the revival of these ideas is slowly starting to materialise, with Montenegro joining the main international forum on environmental protection, introducing environmental protection institutions, adopting contemporary legal norms in this area and proclaiming its fifth national park (Prokletije).