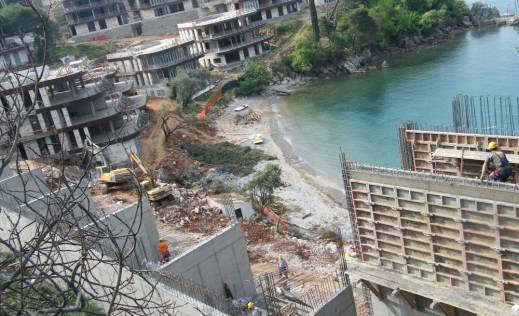 By Adnan Prekic – Podgorica
According to last year's census, there are at least 100,000 illegal buildings registered in Montenegro. The problem becomes complicated by the fact that every illegal construction is considered to be a criminal offense, whle on the other hand the adoption of the law on its legalization is still pending. The Government of Montenegro has prepared an action plan aiming to legalise these facilities. It is estimated that over the next 20 years, the municipality has the potential to earn about 500 million euros from these 100,000 illegally constructed buildings.
With over 100,000 illegal structures it could be concluded that Montenegro has a big problem. However, when one takes into consideration that the law for their legalisation has been pending since July 2012, it is evident that some find this situation accomodating and that the law is intentionally delayed. One would often hear from the Montenegrin opposition that the ruling party used this mechanism to intimidate people, who have illegally built structures in order to vote for them. All MPs have agreed that the law should be adopted creating the conditions for at least part of these structures to be legalized and taxed.
Officially, all illegal buildings can now be legalized, but under the condition that they are in accordance with the plan document. That in Montenegro is usually not the case, and the owners of these buildings still do not know what their ultimate fate will be. Illegal construction entails the problem of corruption. The majority of illegal buildings is connected to the water supply and sewerage system and electricity network. By law that is impossible, since a prerequisite for a proper connection to the network is proper plan documentation.
Most illegal buildings are located in the capital city of Montenegro. According to the data of the real estate in the Podgorica region, 16,382 illegal buildings were enrolled. Their total area is 1,285,665 square meters, or approximately 78.48 square meters per property. After Podgorica, the most illegal buildings are located on the coast of Montenegro. The Ministry of Sustainable Development recognized that the coast has so much concrete that the construction on the coast is over 45 percent. In Italy, France or Spain, which have much higher density coasts, that percentage is about 30 percent.
The government of Montenegro in December 2013 adopted a report on the legalization of illegally constructed buildings. The report estimated that the local governments in Montenegro could, in the next 20 years, legalize some 100,000 illegally built structures, of which they could earn about 500 million euros, based on the utility tax.