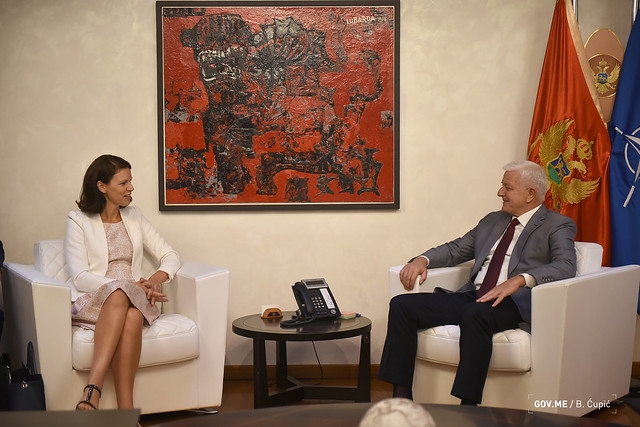 Montenegro and Germany have established dynamic bilateral relations at all levels, and additional efforts should be made to strengthen economic cooperation through stronger investment from the German business people, said Montenegro Prime Minister Duško Marković at the meeting with Deputy Chair of the CDU/CSU Parliamentary Group in the German Bundestag, Katja Leikert.
Prime Minister Marković spoke about the country's economic recovery, which is reflected in high growth rates, deficit reduction and excellent budget filling.
"The results are above expectations. The budget is stable, public revenues are higher than planned, and we have entered into a fierce showdown with the grey economy that has yielded results," he underlined.
Marković emphasised the excellent tourist season, as well as the results and potential in the fields of agriculture and energy. Montenegro, he added, has turned to renewable energy and that is an area that offers great opportunities for the German investors. The Government has placed particular emphasis on the strengthening of the overall infrastructure, as a key prerequisite for dynamic and sustainable development.
According to a press release from Marković's Cabinet, the meeting also addressed progress in the European integration process, freedom of the media, and successes in the fight against corruption and organised crime.
"We have demonstrated the strength and sustainability of institutional action in the combating organised crime and corruption. We have achieved great results in these areas," the Prime Minister of Montenegro underscored.
PM Marković thanked Ms Leikert for the support of the German Government and the federal police, as well as the Konrad Adenauer Foundation, which has continuously assisted Montenegro in strengthening its institutional potential, and which organised the visit of Ms Leikert to Montenegro.
During the meeting with Montenegro Parliament Speaker, Ivan Brajović, Likert said that the consolidation of the European Union and its enlargement are two complementary processes, placing emphasis on the strongly support the enlargement of the European Union, especially to countries that reflect stability, as is the case with Montenegro. Likert confirmed the Bundestag's support to the Parliament of Montenegro, noting that Montenegro has a strong ally in Germany.
Brajović emphasized Montenegro's interest in constantly improving friendly relations and co-operation with Germany, emphasizing, in particular, the importance of strengthening economic relations.
"He stressed the importance of maintaining the good dynamics of political dialogue at the highest level, as well as the fact that intensifying parliamentary cooperation has a stimulating effect on strengthening overall relations between the two countries," the Parliament Office for public relations said in the press release./ibna