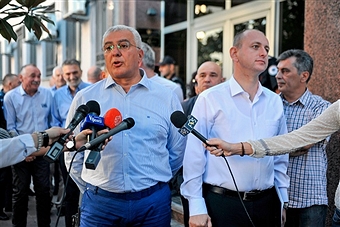 The Montenegrin opposition leader Milan Knezevic, accused of plotting a 2016 coup in Montenegro together with 13 other persons from his country, Russia and Serbia, in order to overthrow the pro-Western government, pleaded 'not guilty' before a Podgorica court on Monday.
Knezevic, is one of the heads of the strongest opposition alliance in Montenegro, the "Democratic Front". During the hearing he explained that he happened to be with the others only because he is a Serb against the Montenegrin NATO membership.
Although he presented himself before the court, he said that he does not recognise it and spoke of a political process targeting the Serbs.
His outfit had a pro-Russian touch with military symbols which he told were given to him while he was in Moscow at the Victory Day (May 9) commemoration.
Among the accused people are one more leader of the Democratic Front, Russian military intelligence service officers and a former commander of an elite Serbian police unit.
The plot took place in October last year…/IBNA
Photo: Getty Images