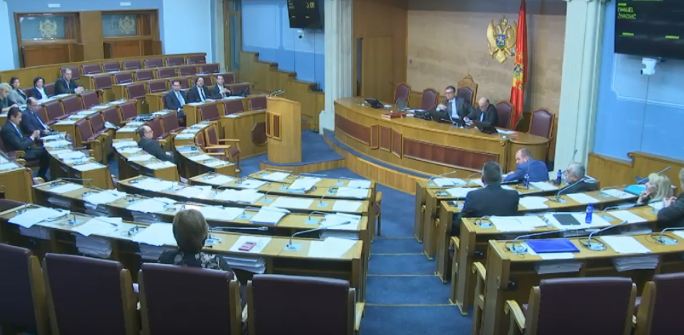 The so-called "mini Schengen" was today one of the topics debated in parliament by DF and DPS MPs.
While DF's Milutin Đukanović said that it would be normal for Montenegro to be part of such an initiative, Predrag Sekulić of the DPS said that Montenegro should aim for the big, not the mini Schengen.
Although the agenda of the plenary session included a set of judiciary laws, the focus of parliament was the discussion of the so-called "mini Schengen", an initiative involving Serbia, North Macedonia and Albania.
"In Montenegro, however, there was panic. This 'leader in the region', goes 'into hiding' when the mini Schengen is mentioned. So, Montenegro wants European integration, but it will not have free flow of goods, people and capital between its neighbours. Is it normal, is it natural? That speaks volumes about a sincere willingness for European integration", Đukanović said.
DPS MP Predrag Sekulić, noting that he is speaking on his own behalf, says he is sceptical of a "mini-Schengen" notion, Antena M reported.
"You will allow me to be sceptical, for the simple reason that Montenegro is a leader when it comes to European integration, and I am reminded of the DPS program of 2002, which said that, as far as we are concerned, European integration has no alternative. In addition, I do not know why trade the big Schengen for a mini Schengen", Sekulić said.
Deputy Prime Minister and Minister of Justice Zoran Pažin recalled that he announced his viewpoint on a "mini Schengen" a few days ago in Geneva at a meeting with senior officials of the Western Balkans, EU Member States and European institutions.
"I do not think this is an opportunity for a broader elaboration, but it is such a significant issue that the public will not be deprived of dialogue on the subject", Pažin said.
In Geneva, Pažin said he does not believe that such an initiative would help with integration into the European Union./ibna