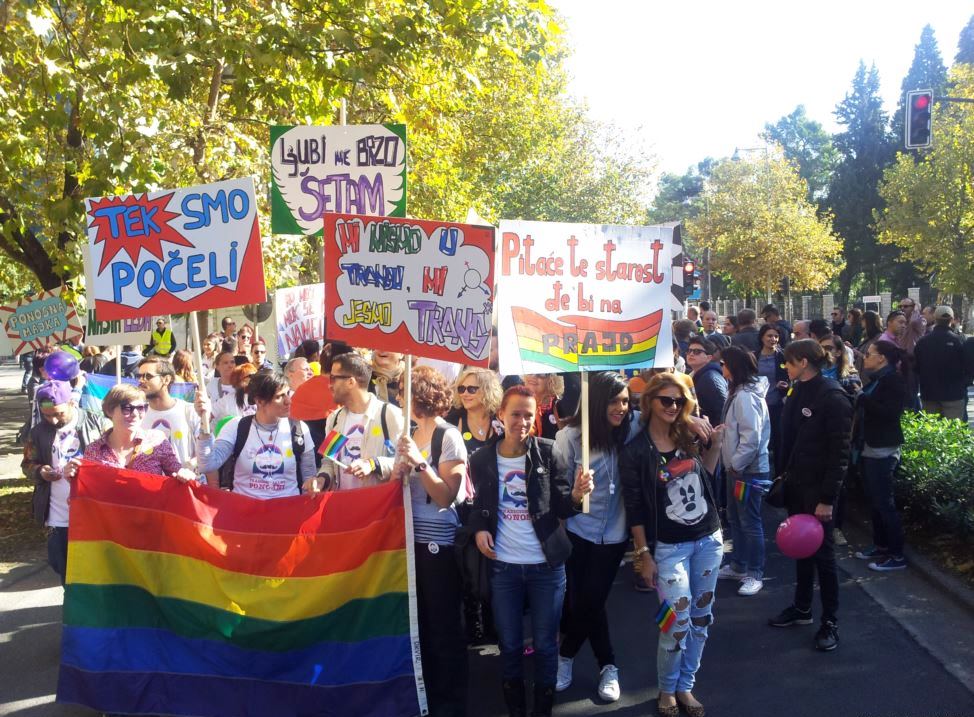 By Adnan Prekic – Podgorica
The activists of LGBT community and those who lent them their support, held yesterday a second gay pride parade in Podgorica. Unlike the parade that was held last year in Budva, this year in Podgorica it has gone without any incident. A large number of police officers were utilised to safeguard the parade, but in the end their role was just preventive.
Unlike the last year's pride parade when Podgorica resembled a battleground, this year's walk of the LGBT community has passed without any incidents. The Pride brought together about 200 people, members of the LGBT community, politicians, delegations of foreign embassies and civil society, who wantet to support the rights of LGBT people. Podgorica gay pride parade took place under the motto "Traditionally proud". The pride was also attended by representatives of the government, Podgorica mayor Slavoljub Stijepovic, representatives from political parties, the diplomatic corps and NGOs, as well as members of the LGBT community.
Police said that they questioned nearly a hundred potential trouble-makers and found a sack of flammable materials. Two minors will face charges for planning to attack the march with petrol bombs, said the police.
Organizer Daniel Kalezic said: "LGBT people in Montenegro still live in fear because of social resentment. I am the happiest man in the world today! This year we had better cooperation with the authorities", said Kalezic.
The head of the EU delegation in Montenegro Mitja Drobnic told reporters: "Human rights make part of the rule of law. Without results achieved in the area of the rule of law there is no progress towards EU membership." Mayor of Podgorica Slavoljub Stijepovic said that Podgorica yesterday showed that it is tolerant and open European capital.
This was Montenegro's third gay pride parade and the second held in the capital. A Gay Pride Parade in Montenegro was first held on July 24, 2013 in Budva. The event was marked with violent behaviour of hooligans, who attacked participants  with stones and swearing. That same year, on October 20, was held the first Pride parade in the capital Podgorica. The last march in October in the capital was marred by violent clashes. Over 50 people were detained and around 20 policemen were injured.