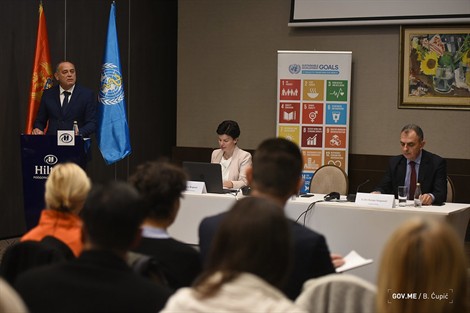 "Montenegro is facing a worrying epidemic of overweight and obesity of the youngest members of our society. For this, but also for all challenges and goals of importance for the whole society, the best answers are cooperation and unity of all segments of society in finding solutions," said Deputy Prime Minister and Minister of Agriculture and Rural Development Milutin Simović.
Simović opened a conference on national and multi-sectoral dialogue on "The programme – fruits, vegetables, milk and milk products for schools – the path to healthy habits and better health from infancy".
With a view to working together to improve the eating habits of children and reduce the worrying percentage of childhood obesity in Montenegro, as well as to present the Fruit Vegetables, Milk and Milk Products Programme for schools initiated by the Ministry of Agriculture in elementary schools, the Ministry in cooperation with the World Health Organisation organised today's event.
Simović said that obesity can be prevented through the implementation of policies and measures that aim to create an environment that promotes lifelong health, where home and family, as well as school, play a key role in creating eating habits and in general the lifestyle of children.
Minister of Health Kenan Hrapović said obesity is a medical problem that is most easily recognised but most difficult to treat.
"Obesity has reached epidemic proportions worldwide. Over the past 50 years, the number of obese children has increased by an incredible 300 percent," said Hrapović, adding that the causes of obesity are complex and numerous and include genetic, biological, cultural and sociological factors, but that the consequences are also complex.
Head of the WHO Office in Montenegro Mina Brajović congratulated the Ministry of Agriculture on the initiation and implementation of an important programme for the distribution of fresh and healthy meals for children in schools, because this is not only an example of good practice in EU countries, but much more.
"For WHO, this is confirmation that the fight against childhood obesity in Montenegro is not only a priority of the health sector, but is also under the full attention of other sectors, such as agriculture. This is a confirmation that the Government has adopted a multi-sectoral approach in addressing this issue," Brajović said.
The programme includes free distribution of milk and fruit meals to elementary school children, from first to fifth grade, once a week. In addition to the free meals, the programme also includes educational work through which children will learn about healthy nutrition, nutritional values of food, agriculture and how to produce food and visit farmers./ibna