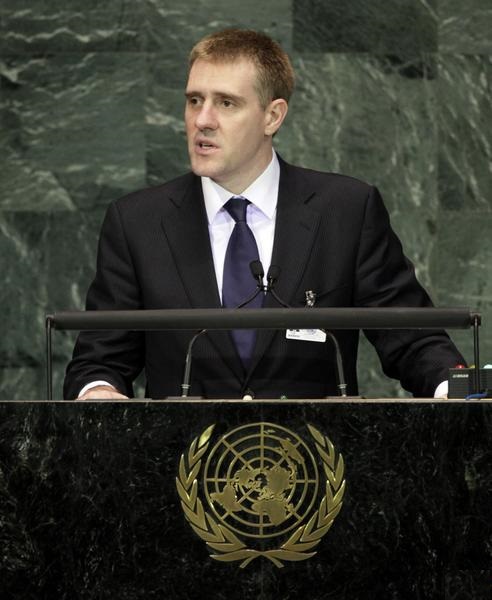 Podgorica, February 20, 2015/ Independent Balkan News Agency
By Adnan Prekic
Deputy Prime Minister and Foreign Minister Igor Luksic is a serious candidate in the name of Montenegro to be proposed for the new Secretary General of the United Nations. Citing diplomatic sources, Podgorica newspaper "DAN" announced that the Montenegrin diplomats have already started lobbying for Luksic's candidacy. The government did not confirm this information, stating that the elections will be held next year and that they didn't reach a decision whether Montenegro will have its own candidate.
The fact that next year the position of the Secretary-General of the United Nations will belong to one of the countries of Eastern Europe, has created an opening former prime minister and current Foreign Minister of Montenegro, Igor Luksic to run for the office. Newspaper "DAN", citing diplomatic sources, claimed that the Montenegrin diplomats have already begun lobbying for Luksic. The government will reach the final decision on the candidacy based on the results of the lobbying.
The Ministry of Foreign Affairs and European Integration of Montenegro did not confirm this information, nor did they deny it. The Montenegrin government did not discuss on this topic. Bearing in mind that the elections are held next year, Montenegro will promptly make a decision about whether to have their own candidate or to support others. In this sense, everything else is speculation. The priorities of Montenegrin foreign policy are primarily fulfilling the obligations from the the integration process, as well as further strengthening regional cooperation.
From 2010 to 2012 Luksic has held the position of Prime Minister. After the return of DPS leader Milo Djukanovic at the prime minister's office, he has served as head of Montenegrin diplomacy. Also, Luksic said earlier that he is not interested in running for a position in the DPS, bearing in mind that the Congress for this party is in the coming June.
In addition to the former President of Slovenia Danilo Turk, who has already announced his candidacy for the new Secretary General of the UN, several others well-known politicians from the Western Balkans might run for this office. Among the politicians of the Western Balkans whose names are mentioned are former Serbian Foreign Minister Vuk Jeremic, the current head of the Croatian Foreign Ministry Vesna Pusic, Irina Bokova from the Bulgaria – General of UNESCO.
Also interested in this position is Miroslav Lajcak, Minister of Foreign Affairs of the Slovak Republic, who had once been envoy in BiH, and during the referendum in Montenegro in 2006 he served as the EU special envoy.