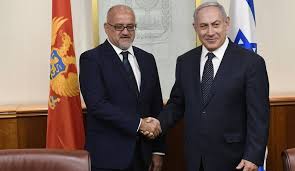 On Tuesday, Minister of Foreign Affairs of Montenegro, Srđan Darmanović who is on an official visit to Israel, met with the Prime Minister and Minister of Foreign Affairs of Israel, Benjamin Netanyahu, in Jerusalem.
Montenegro's minister shared with the Israeli premier that his country regards the visit as important and "it is the expression of Montenegro's desire and interest in strengthening political dialogue and overall cooperation with the State of Israel."
Both men agreed that this will be achieved through strengthening ties in defence, economy and tourism, with Netanyahu agreeing that the current friendship between the two countries represents a good basis for further development of co-operation.
"At the meeting, particular emphasis was placed on the development of cooperation in the field of science and high technologies, bearing in mind the enormous progress, experience and leadership of the State of Israel in this field."
On Monday, which was the first day of FM Darmanović's  visit to the country, he met with the Israeli President, Reuven Rivlin.
Minister Darmanović thanked him for the hospitality and emphasised the importance of deepening the friendship and overall co-operation between the two countries, which has recently gained new dynamics, especially in the field of tourism, as noted by the government of Montenegro on its official website.
For his part, President Rivlin agreed that intensifying their bilateral co-operation is of interest to Israel, too.
The head of state of Israel congratulated the Montenegrin minister on his county's NATO membership, while Darmanović also briefed him about the dynamics of Montenegro's EU negotiation process, as well as the constructive role of the country in the wider Western Balkan region.
During their get together, the two officials spoke of the current international developments that are important to regional and global security….. / IBNA