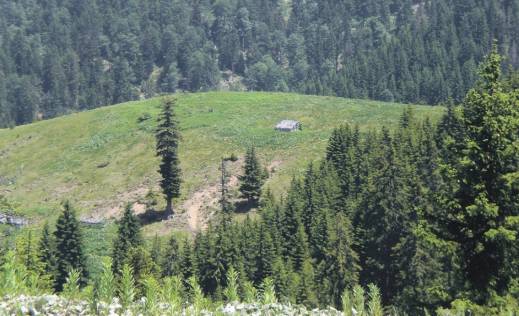 By Adnan Prekic – Podgorica
After the unresolved border dispute with Croatia regarding Prevlaka peninsula, Montenegro has encountered a new border dispute with Kosovo. The forest complex on the border of Montenegro and Kosovo of approximately 6 000 hectares is the area over which the two countries can not agree. Therefore, Montenegro has announced that it will launch an international arbitration if the Kosovo authorities by the end of the year have not agree on the disputed territory between the two countries.
After several years of negotiations and 12 expert meetings, Montenegro and Kosovo were unable to agree as to whom belong the 6 000 hectares of forest in the border area between the two countries. Montenegro relies on data from 1932, when ​​the first cadastre in Kosovo were made. According to this data the official Podgorica claims to have solid arguments that the property belongs to Montenegro. The demarcation process has been going on for a long time and the Montenegrin side has decided to suggest counterparts in Kosovo to sign an agreement by the end of the year, otherwise this disagreement will go to international arbitration.
Dragan Kovacevic, director of the Real Estate Agency Montenegro, said that in regard to the border issue with Kosovo, it is completely clear and unambiguous that the disputed territory belongs to Montenegro. On the other hand, Kovacevic claims that there is no written document that proves that the border with Croatia on Prevlaka belong to one state or another. Our diplomacy should fight for that part and I think that is half ours. How will it continue to unfold, remains to be seen, hopefully in our favor, said Kovacevic.
Then negotiations with Croatia on the boundary with the Prevlaka peninsula has been going on for years. Under a previous agreement, Croatia is allowed to use the entire space of Prevlaka, but at the last meeting of the two delegations the issue of maritime border was opened.
The Prevlaka peninsula since the mid-19th century was part of the Austro-Hungarian Empire and was a military facility. After the First World War in 1918 it belonged to the Kingdom of Serbs, Croats and Slovenes, the Kingdom of Yugoslavia. And at that time the Yugoslav Army took over this part of the territory. Until the collapse of Yugoslavia, the territory of the cadastre was categorised as a military territory and it could not be recorded as an asset of any country.
Among the countries with which Montenegro borders the final agreement on the delimitation has only been established with Bosnia and Herzegovina.