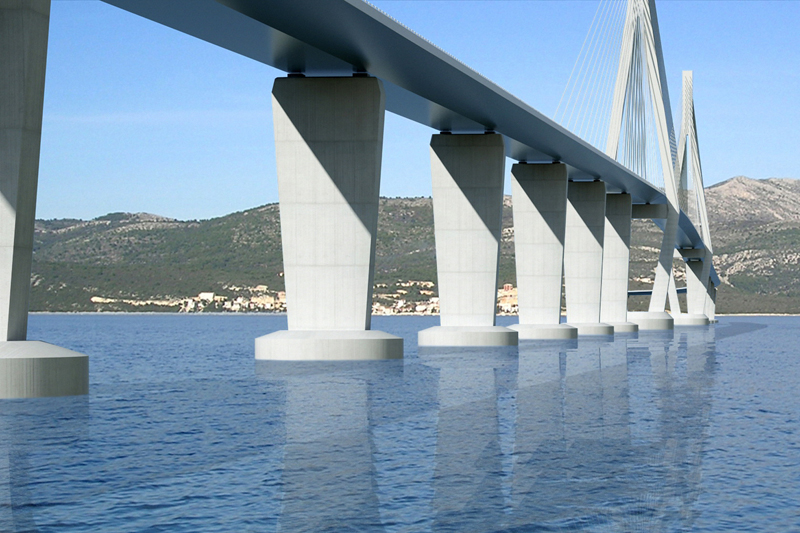 By Natasa Radic – Zagreb
– At the rally ahead of the elections for the Croatian representatives in the European Parliament in Dubrovnik, Prime Minister Zoran Milanovic has commented on the key problem of the area, the construction of the Peljesac bridge. This bridge should bypass the Bosnia Herzegovina's territory of Neum, where Croatian mainland is intersected by a small strip of coast. The pshysical connection of the southernmost part of Dalmatia with the rest of Croatia is limited to Croatian territorial waters and with Croatia EU entry on July 1st it becomes a bigger, EU problem. The construction of the bridge is too expensive to handle in financial crisis times and it remaind the open issue. Prime minister Milanovic now has confirmed he has changed his stance.
– I was one of the strongest opponents of the project, but things have changed so now I'm supporting the Peljesac Bridge, but we will not talk about it until we're one hundred percent sure that we will provide the means for its realization – Milanovic said. Those words confirmed everything he said on the Government's session in the beginning of April, when the government decided to initiate the procedure for the conclusion of agreements on cross-border trade with Bosnia Herzegovina. Foreign Minister Vesna Pusic and Prime Minister Zoran Milanovic then stressed that the Peljesac bridge was the best solution, but that it will not be built until the resources for its funding are not secured.
– When and if we secure the money, then we will open the construction site – Milanovic said. The Prime Minister said the Croatia has built its highway network without any assistance from the European funds and concluded that because of that "we have a moral right to ask for something."
Minister Vesna Pusic announced that the new border regime with Bosnia Herzegovina will start from July 1st and Croatian accession to the EU, and this is why the Government is still seeking a solution to connect the Croatian territory, and therefore the EU without border crossings, which could be financed from the EU funds.
– In the second-half of the 2013, Croatia has 650 million euros at our disposal from the European funds, so it's a great option to finance Peljesac bridge from these funds. The positive thing about this type of financing is that it brings order, transparency and responsibility for every euro and dollar invested, Pusic said in Dubrovnik. Foreign Minister said that the bridge solution is the one in accordance with Schengen rules, but the question is if the EU will give a green light for financing this huge project.
EU has not yet given any concrete answer if they will finance the bridge or there will be an alternative solution. Peljesac bridge would be almost 2.5 kilometers long and its approximate cost is around 260 million euros, as estimated in 2007.