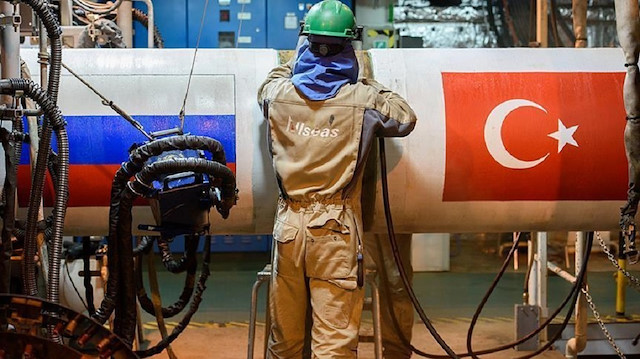 Moldova appears to be in advanced talks with Gazprom, in order to be included in the ongoing development of the Turkish Stream natural gas pipeline.
Moldova looks to acquire gas from Russia through the pipeline, according to the country's Minister of Economy and Infrastructure Vadim Brynzan.
"We are talking with Gazprom regarding the supply of gas from Turkish Stream", he said.
The goal is, as he said, for quadripartite consultations to be launched between Ukraine, Romania, Bulgaria and Moldova, so that gas supply and distribution can be possible.
"We want to evaluate the technical and financial aspects of the project. The European Commission will take on the role of mediator in this process", the Moldovan Minister of Economy and Infrastructure clarified.
"There is no need for any preparations or additional constructions; the infrastructure is already there. There currently exists a pipeline linking Turkey with Moldova; this is the Trans-Balkan pipeline. Turkey at the moment acquires Russian gas through the Blue Stream and the Trans-Balkan pipeline, with the latter one running through the territories of Ukraine, Moldova, Romania and Bulgaria. As soon as the first section of the Turkish Stream pipeline is put into operation, the flow through Ukraine will be interrupted; therefore, the existing flow may be reversed and that way Turkey might be able to supply Romania and Moldova with gas", Igor Yushkov, analyst of Russian Energy Security Institute and lecturer at the Russian University of Economics explains.
"The current leadership of the Ukrainian Naftogaz declares it will not sign a new contract with Russia. Naturally, all Gazprom customers in Europe are concerned about how they will receive the gas they need, if the flow through Ukraine stops on January 1. For Moldova and Romania this is a very urgent issue", he continued.
It is noted that on 31 December 2019 the gas supply agreement signed by Moldova -and in particular between Moldovagaz and Gazprom- expires.
However, an extension or renewal of the contract is expected.
It is recalled that the Turkish Stream pipeline is expected to supply Russian gas to Turkey and Europe and will consist of two separate lines, with a capacity of 15.75 billion cubic meters each on an annual basis. /ibna