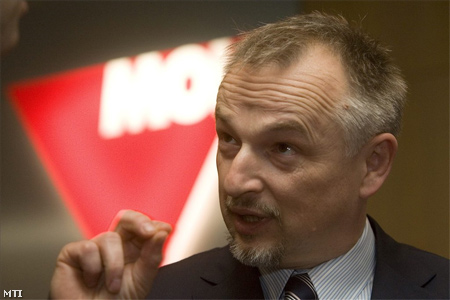 Review Hari Stefanatos
In an interview to the television network RTL on Sunday, the CEO of the Hungarian oil and gas MOL Group, Zsolt Hernadi, denied the accusations that he had given a kickback to the former Croatian prime minister Ivo Sanader, in order to obtain management rights over the Croatian oil and gas company INA.
"No, we never discussed such a thing. We never discussed a subject relating to money or anything illegal", Harnadi said when prompted to answer about the kickback accusations.
He went on to say that the croatian government should change its approach on the matter, referring to the charges by the Croatian national anti-corruption office USKOK issued last week, according to which Hernadi gave Sanader a kickback of 10 million euros to cede management rights over INA.
The MOL CEO was also asked to comment on the video recording featuring him and Sanader in a restaurant in Zagreb, apparently removing the batteries from their phones and exchanging slips of paper.
He characterised it as a poor piece of evidence stating that "I certainly did not take out the battery from my mobile phone, someone must have seen it wrong. We are talking, and the former prime minister asks me something. I take out my phone, turn it on, wait for a while for the phone to turn on, I check something, ask for a slip of paper, because I had no paper on me, just as I don't now. I don't even have a pen. But what does that have to do with any crime?", to add that "Mr Sanader asked me a phone number for a Hungarian public figure because he wanted to call that person. I said I would check if I had that person's number and I checked it in my phone. I had the number and wrote it down on a piece of paper. It was a simple request with a simple answer. I wrote down the telephone number and put away my phone," the MOL CEO said.
When asked if it is legal for MOL to have INA's management even though it did not have 50% plus one share, Hernadi said it was usual practice in the world that management rights were separated from ownership. As an example he mentioned a gas field in Pakistan in which MOL has a 10% stake, but fully controls the exploitation of the field and is accountable to the other owners.
The CEO also commented on the international warrant issued by Croatia for his arrest, stating that he was officially contacted by the Croatian State Attorney's Office (DORH), and went on to say that "the State Attorney's Office is not above the law. The fact that the first-instance court ordered my arrest at the proposal of the State Attorney's Office, saying that I am a fugitive from justice, is a violation of the law. Do I look like a fugitive? Did anyone not respect the law in this matter? I say that everyone respected the law except the Croatian State Attorney's Office."
(Source dalje)