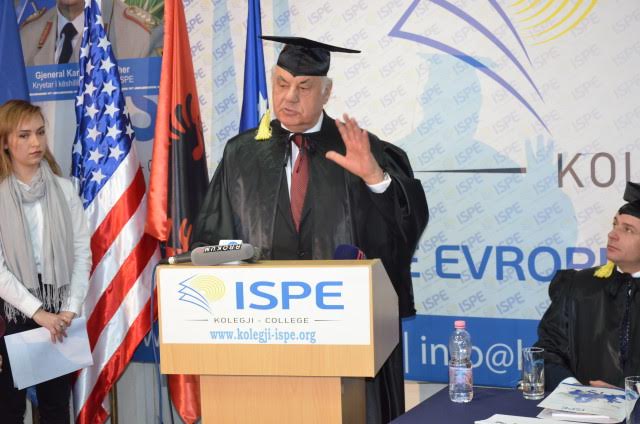 Pristina, 31 March 2016/Independent Balkan News Agency
By Elton Tota
The end of the 20th century has marked progress in the advancement of the Albanian cause and this is proved by the democratic stability of Albania, liberation of Kosovo "as a result of the war fought by Albanians and the efforts of [Ibrahim] Rugova" and the Ohrid Agreement in FYROM.
This was how the former president of Albania, Alfred Moisiu started his lecture in front of the students of ISPE College in Pristina, IBNA correspondent in Pristina informs.
Commenting on the weak implementation of the Ohrid Agreement, he said that not only Macedonian politicians are to be blamed for this, but also the lack of unity and divisions within the Albanian factor in FYROM.
As far as Kosovo is concerned, former Albanian president said that the rights that are guaranteed to the Serbs of Kosovo, especially in the north, are enjoyed by no other minorities in Europe.
"But Albanians in the Valley of Presevo are far from enjoying these rights. This is a double standard and the wrong one. This is not good for Kosovo. It causes disputes and threats", Moisiu said.
Former Albanian president said that while Kosovo is aiming to become a NATO and EU member, Serbia is not showing any interest for NATO accession.
Mr. Moisiu added that Kosovo and Albania must continue to deepen their alliance with the West and especially with the United States of America.
Speaking about security in Europe, the former President of Albania said that terrorist attacks have been a constant threat in the recent years.
"Perhaps for the moment, Kosovo and Albania are not exposed to the terrorist threats that Europe is facing, but they must make constant assessments if they face these threats and must not neglect this danger, bearing in mind the fact that those who have participated in fights in Iraq and Syria have fought over there", said the former president of Albania, Alfred Moisiu. /ibna/