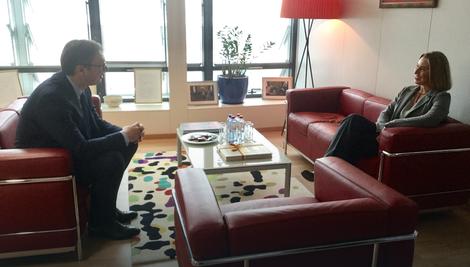 European Union's high commissioner for foreign policy Federica Mogherini has "strongly supported the speedup of the Serbian path towards the EU", according to Serbian president Aleksandar Vucic, who met with Mogherini in Brussels. Later today he will meet NATO secretary general Jens Stoltenberg.
"We have agreed that the stability and peace are of the highest importance for both Serbia and the EU", Vucic told journalists in Brussels. Mogherini and Vucic, as announced by her office, have discussed EU-Serbia relations, as well as the advancement of serbian accession, the situation in the Western Balkans and Belgrade-Pristina dialogue.
The Serbian president will take part in the North Atlantic Council session, in the NATO headquarters. Ahead of the visit, he met with head of the NATO liaison office in Belgrade brigadier general Chezare Marinelli. At that meeting, Vucic reiterated that Serbia will remain military neutral. The country will continue to cooperate "with different alliances and states, but will not become a member of any military group", the president said, according to his public relations stuff.
The visit to NATO should "confirm the advances within the political dialogue and concrete cooperation between Serbia and NATO".
Vucic has previously visited NATO in November 2016.
Serbia has become a member of the Partnership for Peace program in 2006; in 2015 it has signed the Individual Partnership Action Plan (IPAP) with NATO, the highest non-membership level of bilateral cooperation./IBNA