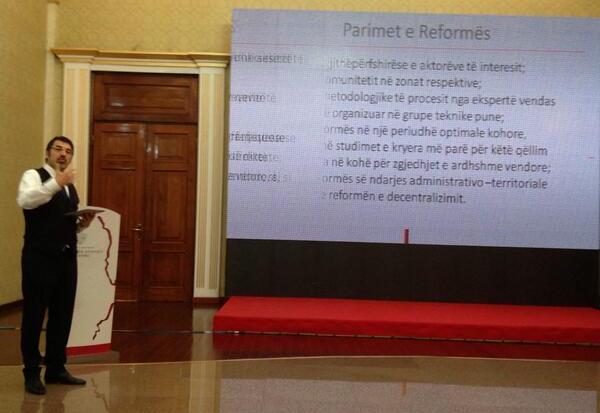 Tirana, May 16, 2014/Independent Balkan News Agency
Prime minister Edi Rama has commented on the presentation of the project for the territorial administrative reform.
"The territorial administrative reform project will be presented to parliament. A new step toward a radical reformation of the country", writes Rama on Twitter.
Meanwhile, the minister of State for Local Government Affairs, Bledi Cuci said during the presentation of the 5 models that a work group of 20 experts has worked for the territorial division.
Cuci said that there have been intensive consults with ambassadors, civil society and work groups.
As far as the criteria for the territorial division is concerned, minister Cuci declared that "The criteria that were approved by the commission relate to the functional areas, meaning that units which will be functional areas will be created. The functional area will be concentrated in an urban area with a large number of population and will offer public services".
He said that the distance from the territory will also be taken under consideration.
The first model for the territorial reform divides the country into 30 units of local government. The second model divides the country into 39 local government units.
The third model divides it into 47 units, the fourth one into 75 units, while the last one into 63 units.
In his speech, the chairman of the commission for the territorial reform, Bashkim Fino declared that the opposition is invited to present its proposals and have its say about the best model.
Fino said that the final map will be approved next week, when the most feasible model will be decided. /ibna/